FOCUS Investment Banking Represents UTG in Business Sale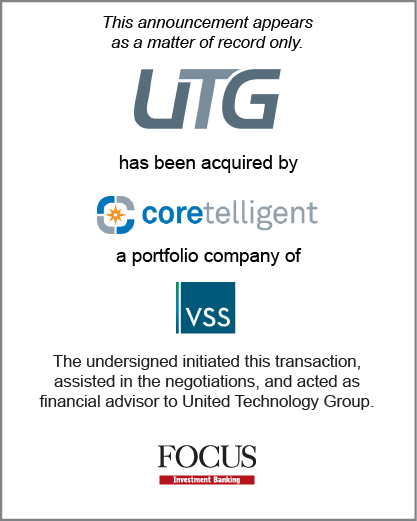 Washington, DC, (April 3, 2019) – FOCUS Investment Banking, a national middle market investment banking firm providing merger, acquisition, divestiture, and corporate finance services, announced today that United Technology Group, LLC (UTG) has been acquired by Coretelligent, a portfolio company of Veronis Suhler Stevenson (VSS). FOCUS represented UTG in this transaction.
UTG specializes in co-managed technology services, including cybersecurity, professional services, hardware and software sourcing. UTG is a leading cloud reseller and IT managed services provider in the Southeast, offering collaborative support and business technology alignment to a broad base of customers in the region.
Coretelligent is a leading provider of comprehensive managed IT, Security and cloud services, enabling organizations to seamlessly power and successfully grow their businesses. Founded in 2006 and led by world-class experts, Coretelligent's key services of managed IT, security and cloud solutions are relied on by top-tier organizations in the financial services, life sciences, legal and technology industries among others. Coretelligent is headquartered in Westwood, MA.
Brian Miller, who will be joining Coretelligent's Executive Team as SVP Business Development, Southern Region, noted, "The connections that we have formed as a part of United Technology Group will thrive with the addition of Coretelligent's robust suite of resources to our services lineup. Clients will appreciate the consistency of continuing to work with their known partners, while gaining access to world-class tools and advanced security processes from Coretelligent."
"It is always crucial for our clients to feel confident that their needs will be considered during an acquisition," stated Eric Dykes. "My new role as SVP Operations, Southern Region, for Coretelligent will allow me to weave together best practices from both organizations in a way that supports the needs of our constituents while causing minimal disruption to operations."
"UTG's comprehensive managed services offering and long-tenured customer base in the Southeast is a great fit for Coretelligent," said Trent Hickman, Managing Director of VSS. "The acquisition reflects VSS's ability to partner with outstanding management teams to identify and execute upon growth opportunities, both organic and through strategic acquisitions that improve the growth trajectory of their businesses."
"Coretelligent's focus on being a true partner for our clients means always looking for ways to improve our service offerings and depth of knowledge. Our acquisition of UTG reinforces our commitment to support organizations in high-touch sectors such as financial services and health sciences with technology support and security services that they can trust," stated Coretelligent Founder and CEO, Kevin J. Routhier. Routhier will serve as President and CEO of the combined companies.
According to Manan Shah and George Shea, FOCUS Partners, "This transaction reflected a strong demand for MSP businesses among acquirers and Coretelligent emerged as the best strategic fit for UTG through our process. With their acquisition of UTG, Coretelligent cements their nationwide reach by adding an office in Atlanta, joining the four current Coretelligent locations including their Boston headquarters and offices in New York, Philadelphia and San Francisco. Together they will be focused on creating a superior service model for their clients and will extend Coretelligent's white glove service model throughout the Southeast."
*These testimonials may not be representative of the experience of all clients; testimonials are not a guarantee of future performance or success.
About FOCUS Investment Banking
With more than three decades of experience, FOCUS Investment Banking is a trusted name in middle market M&A advisory services worldwide. FOCUS works to understand each client's strategic and financial objectives, craft the best plan to achieve these goals, and deliver success. Whether helping to sell, buy, or raise capital, FOCUS strives to maximize the value of every transaction to the benefit of its clients. Securities transactions conducted by FOCUS Securities LLC, an affiliated company, registered Broker Dealer member FINRA/SIPC. For more information on FOCUS, visit www.focusbankers.com.
Inside the Deal
Client(s)
United Technology Group, LLC (UTG)
Duluth, GA , U.S.A.
Transaction Partner(s)
Coretelligent
Westwood, MA, U.S.A.
Veronis Suhler Stevenson (VSS)
New York, NY, U.S.A.
FOCUS Teams Involved
FOCUS Teams Involved
FOCUS Teams Involved