Telecom Technology and Services Investment Banking
Telecom Investment Banking
FOCUS' seasoned team of investment banking professionals has years of experience providing M&A and corporate finance advisory services to middle market clients in the telecommunications industry. Our team consists of two professionals with backgrounds that include years of experience in guiding middle market clients through M&A and capital raising transactions. Our transaction experience covers a broad spectrum of telecom-related businesses including:
Telecommunications hardware and software
Incumbent and competitive telecom service providers
Telecom providers to Federal agencies (civilian and DOD)
Data centers and colocation
Contact center technology
Wireless and RFID technologies
Network support services such as engineering, construction and staffing
Equipment distribution and supply chain services
We are excited to bring this expertise to bear to help our middle market clients reach their strategic objectives.
Unlike most telecom groups serving the middle market we
Devote significant senior level resources to executing transactions for lower middle market clients
Have a breadth of knowledge that covers most segments of the telecom industry
Have a proven transaction methodology for delivering results
Equally comfortable with buy side and sell side M&A
Leverage an experienced team of research professionals
Have a national presence with coverage of both the east and west coasts
This is an exciting time for middle market telecommunications companies. Consolidation among the industry's largest companies creates opportunities for smaller, nimbler competitors to develop the innovative technologies and business models that will shape the industry in the years ahead. Our team travels to various conferences and meetings throughout the U.S. and we are always delighted to receive introductions to innovative companies in our industry. Whether or not you are planning a strategic transaction in the next few months or at some indeterminate time in the future, we would be delighted to hear from you and initiate a dialogue.
Services
Our practice concentrates on providing investment banking services to middle market clients:
Sell-Side Engagements – assisting owners looking to exit/sell their business
Buy-Side Engagements – helping companies grow through acquisition programs
Capital Formation – aiding companies in raising capital for growth or recapitalization
FOCUS provides a range of investment banking services tailored to the needs of growing businesses. These services include mergers and acquisitions, corporate finance, strategic advisory services, corporate valuations and strategic partnering and alliances. For more information on how FOCUS can help you meet your business goals, please contact Rich Pierce at
Differentiators
Industry Expertise – With backgrounds that include years of Telecom industry experience, our bankers have a strong understanding of the technical and operational nuances of our clients' businesses as well as the M&A process
Experienced Bankers lead and execute every deal start to finish, giving our clients the advantage of continuity and experience
Process-driven Outcomes – Supported by strong in-house research, our M&A process has a proven track record —130+ closed deals in the last 10 years
FOCUS played a critical role in the process. Their expertise, commitment and professionalism is truly unparalleled. We appreciate their assistance in making the transaction with SIB Fixed Cost Reduction possible.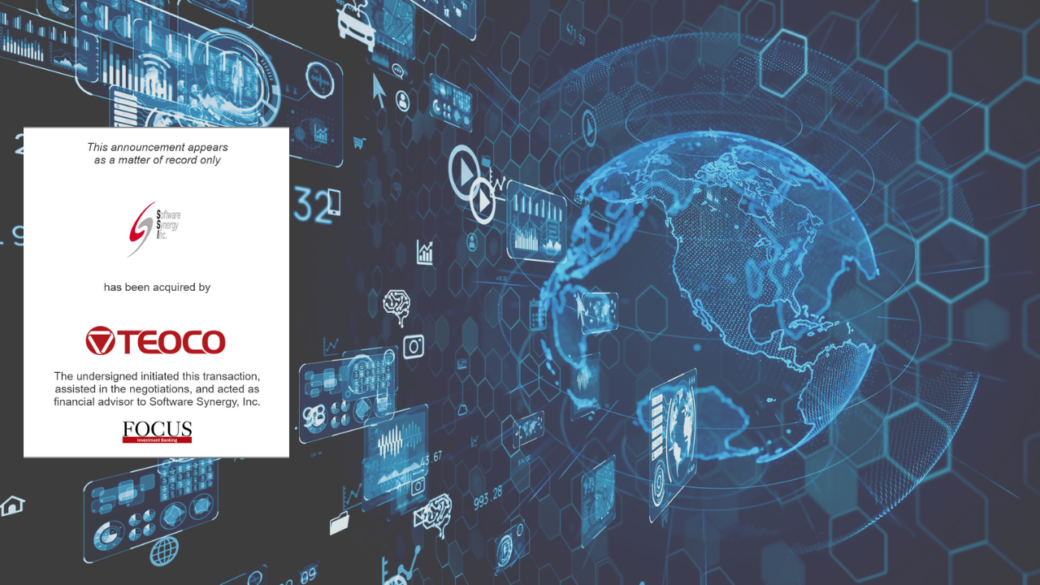 Software Synergy, Inc. ("SSI"), a provider of automated, intelligent network-wide routing and optimization solutions for the planning and management of…