Private Equity's Medical Practice Consolidation Curve. Where Different Specialties Lie.
The Consolidation Curve
We think about private equity-backed consolidations as part of a lifecycle. Like most business cycles, it starts out with pioneering that accelerates through further adoption. A period of high activity persists until supply is diminished or interest changes. Finally, a maintenance period follows at a lower, more predictable activity level.

Where Specialties Lie
Most industries have experienced consolidation at different times. Within healthcare services, ambulatory surgery centers and hospitals have been consolidating for decades. Their consolidation is in a more stable maintenance phase. In contrast, urology practices are in the early part of this consolidation lifecycle. A small number of pioneering practices have joined financial sponsors and made their early acquisitions.
Deal Volume and Size Implications
Generally, most transactions are completed as specialties move through the Geographic Expansion and Network Building phases of the curve. Dermatology and Ophthalmology have been in those phases the last several years.
Number of Deals by Specialty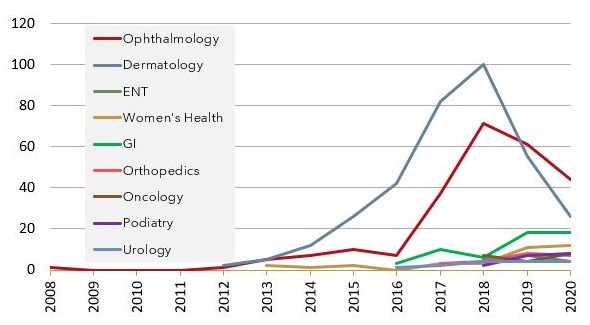 Geographic Expansion
Consolidation speed and timing can and will vary by geography. This is driven by the traditional supply and demand characteristics of a given market. Of course, consolidation can only occur if there are interested buyers. Private equity firms use many factors to determine their most desirable markets and the speed of their growth and expansion. As markets are chosen, buyers first look for large "platform" practices they can build around with smaller "add-on" practices. Some markets develop earlier in the consolidation curve and some later, as shown on the ophthalmology map below depicting yearly growth and opportunity markets.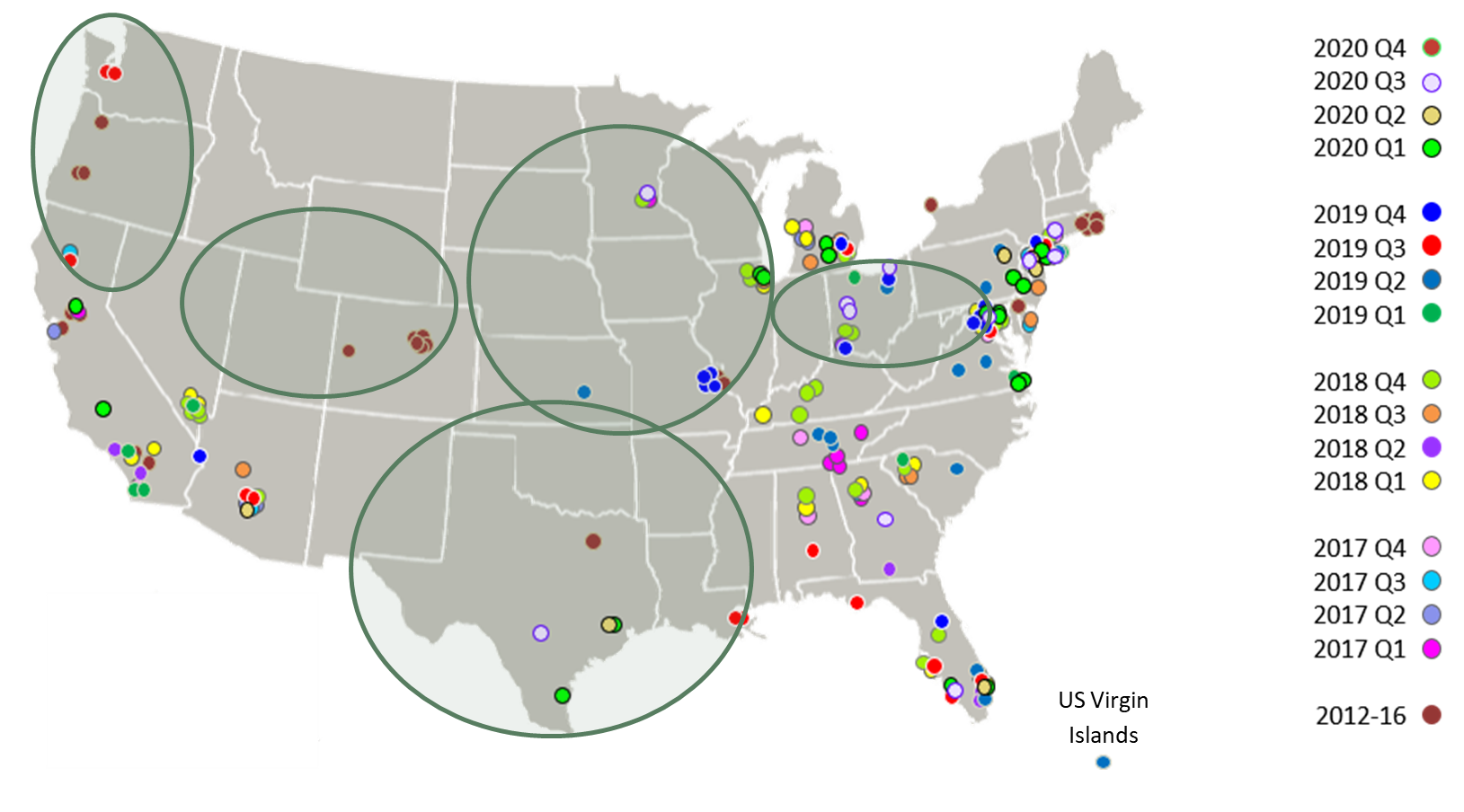 Network Building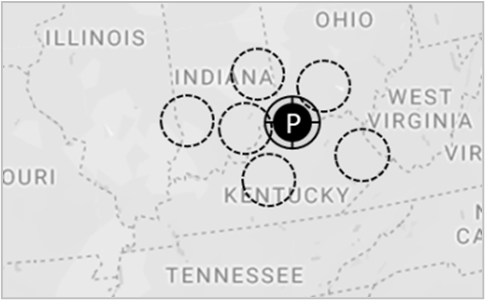 Dermatology and ophthalmology are each in the Network Building phase – characterized by many deals with a decreasing average deal size. That is because most large platform practices have chosen their financial partners and are now pursuing small and medium add-on acquisitions.
As those deals continue, average deal size continues to decrease. For example, as ophthalmology transitioned from the "Geographic Expansion" phase to the "Network Building" phase, acquisition activity became more heavily weighted towards 1-4 physician "add-on" practices.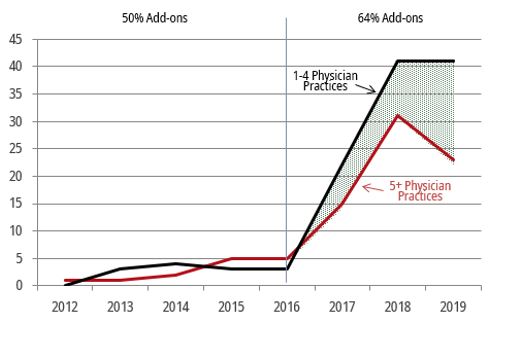 Private Equity Buyer Proliferation
The total number of private equity platforms (firms with an active investment in the specialty) also tracks with the consolidation lifecycle stage. The number of participating investors grows as the specialty moves through the consolidation curve. Ophthalmology and dermatology currently have the most platforms, though PE firms may be entering other specialties more regularly.
Number of Private Equity Firms Actively Investing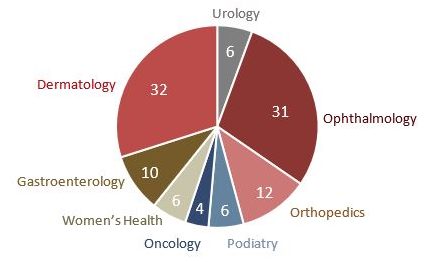 To learn more about our healthcare investment banking services or to discuss your specific situation with no obligation please feel free to call. We are happy to share our knowledge and help you understand your options. All conversations are strictly confidential.
FOCUS Managing Director and Healthcare Team Leader
Direct: 615-477-4741