Middle Market Investment Banking Firm FOCUS LLC Represents Emerging Solutions in Acquisition by Emtec, Inc.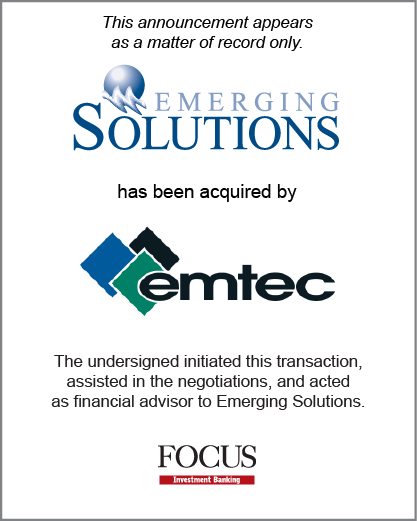 Chicago, IL and Washington DC (August 22, 2011) – FOCUS LLC, a national middle market investment banking firm providing merger, acquisition, divestiture and corporate finance services, announced that Emerging Solutions has been acquired by Emtec, Inc. FOCUS represented Emerging Solutions in the transaction.
Founded in 1997 and headquartered in Chicago, IL, Emerging Solutions is an Information Technology consulting and services company that focuses on enterprise performance management and has broad capabilities and deep technical expertise in market-leading technologies such as Microsoft, Salesforce.com, PeopleSoft, Hyperion and Oracle. Emerging Solutions serves midmarket and Fortune 500 companies in the Midwestern region.
Looking for new ways to grow, Greg Lewis, Co-CEO of Emerging Solutions commented, "We are pleased to have teamed with Emtec. They provide a larger platform for us and we believe that our associates will now be able to provide expanded service offerings and an increased level of support to our clients."
Emtec is a public company that was established in 1964 and provides information technology products and services to the federal, state and local government, education and commercial markets. Emtec helps clients identify and prioritize areas for improvement and then implement process, technology and business application improvements that reduce costs, improve service and align the delivery of IT with the needs of their organizations.
Don Sweeney, Co-CEO of Emerging Solutions added, "This is an exciting time for us. We are looking forward to the prospects ahead and feel grateful for the ongoing advice we received from FOCUS. We interviewed a number of investment banks before selecting FOCUS, and we never regretted our decision. George Shea and Manan Shah did everything possible to maximize value for our shareholders and bring us the best strategic partner in Emtec. Their intimate knowledge of our marketplace and depth of experience was the key to achieving our overall objectives from this transaction. The FOCUS IT Team is top notch, and we recommend them wholeheartedly."
George Shea, FOCUS Partner and Technology Team Leader, commented, "This is yet another evidence of strong consolidation trend in the IT market and particularly the systems integrator community as they look to diversify their offerings and customer base. We had great interest in this project and obtained multiple offers from both strategic and financial buyers; this was our IT Team's 19th closing in the last 27 months."
Manan Shah, FOCUS Partner and Technology Team Co-Leader, added, "We are very pleased to have represented Emerging on this transaction. Emtec was the best fit among interested buyers both strategically and culturally and both companies should derive great benefits from each other's capabilities and market presence through this combination."
*These testimonials may not be representative of the experience of all clients; testimonials are not a guarantee of future performance or success.
About FOCUS LLC
FOCUS LLC provides a range of middle market investment banking services with an emphasis on mergers, acquisitions, divestitures and corporate finance. FOCUS is a national firm serving clients from offices in major cities across the United States. FOCUS specializes in business units with transactions or revenues in the $5-300 million range, serving entrepreneurs, corporate owners and various types of investors across a broad range of industries, throughout the U.S. and worldwide. FOCUS bankers are seasoned operating and financial executives with extensive transaction experience. Securities transactions conducted by FOCUS Securities LLC, an affiliated company, registered Broker Dealer member FINRA/SIPC. For more information on FOCUS and its IT Team, visit www.focusbankers.com/technology.