List of Private Equity Firms Investing in Gastroenterology Practices and Surgery Centers
Investor Entry Over Time
The number of private equity firms investing in gastroenterology practices and surgery centers doubled in 2019. As of the end of 2019, six PE firms were actively investing in the space with three new firms entering in the last three quarters of 2019.
Given the unique makeup of gastroenterology in terms of physician size, market coverage and acquisition opportunity, we believe a significant number of new PE investors will enter in 2020.
Number of PE Firms Investing in Gastroenterology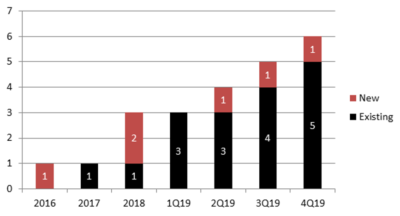 Names of Investing Companies
Gastro Health
GI Alliance
United Digestive
S. Digestive Health
Capital Digestive Care
Peak Gastroenterology Associates
Private Equity Firms and the Practice Management Company Approach
Private equity firms usually create a subsidiary Practice Management Company within their portfolios to acquire and manage ophthalmology practices and ambulatory surgery centers. Most transactions include some equity ownership in that parent management company.
The combination of the private equity firm names and the new practice management company names can be confusing and is simplified below.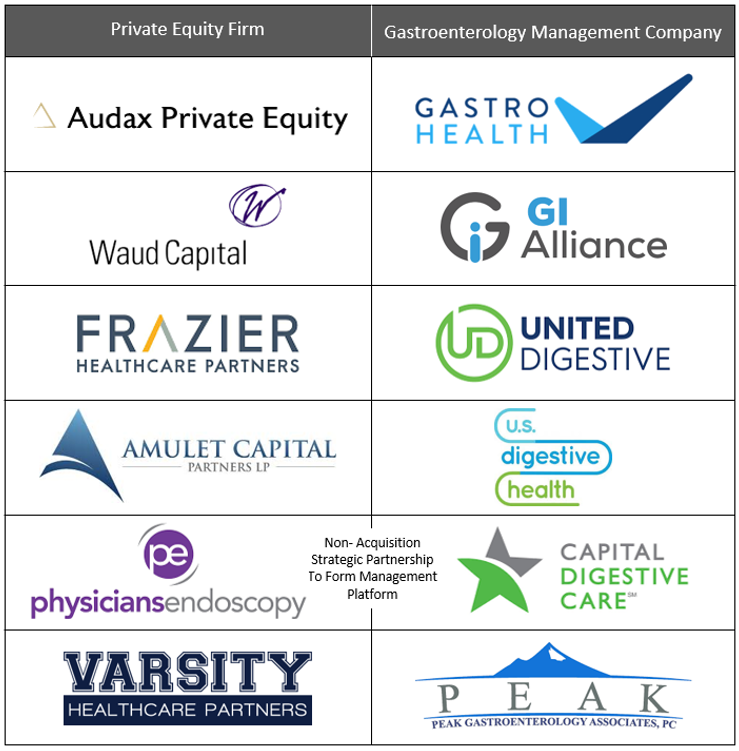 To learn more about our healthcare investment banking services or to discuss your specific situation with no obligation please feel free to call. We are happy to share our knowledge and help you understand your options. All conversations are strictly confidential.
FOCUS Managing Director and Healthcare Team Leader
Direct: 615-477-4741