Middle Market Investment Banking Firm FOCUS LLC Represents TELESIS Corporation in its Acquisition of Endeavor Systems, Inc. Important Cybersecurity Transaction in the Government M&A Sector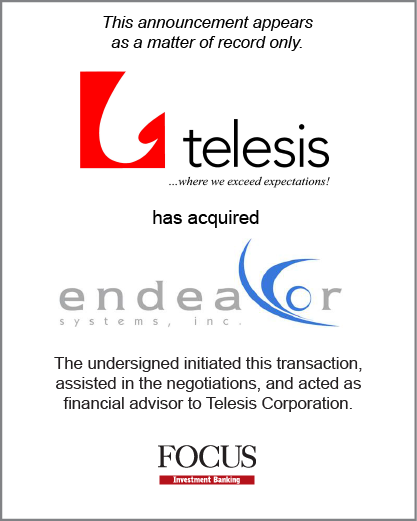 Washington, DC (March 6, 2012) – FOCUS LLC, a national middle market investment banking firm providing merger, acquisition, divestiture and corporate finance services, announced today that TELESIS Corporation has acquired Endeavor Systems, Inc. FOCUS represented TELESIS in the transaction.
"Cybersecurity has been a target area of growth for our firm and the Endeavor acquisition provides us the necessary skill sets and customer base through which we can offer these services to a wide range of defense and civilian agencies in the years ahead. FOCUS provided an outstanding service and with their help we were able to look at a number of potential candidates before finalizing Endeavor as the ideal fit based on a number of factors," commented Payal Tak, President and CEO of TELESIS.
Founded in 1998, TELESIS has emerged as a business leader recognized for providing its best-valued technology solutions to the government, defense and healthcare industries. TELESIS specializes in information technology service desk, contact center services, electronic document control and records management, systems integration and full life-cycle enterprise software services. Headquartered in Beltsville, Maryland, with over 150 employees, TELESIS has been awarded the highest rating of 3A1 for financial strength and stability by D&B, received SmartCEO Brava! Women Business Owners Achievement Award and been ranked in the Technology 500 and Tech 200.
Endeavor Systems is a premiere provider of secure enterprise solutions for federal agencies. Offering a broad set of professional services, and partnering with security and information technology industry leaders, Endeavor provides solutions for securing and modernizing government business.
According to Manan Shah, FOCUS Managing Partner and Government, Aerospace & Defense Team Leader, "Endeavor was a natural fit to TELESIS given the cultural symmetry and like-minded executive team. Acquisition of Endeavor will enhance TELESIS' presence in the federal sector and allow it to participate in the fast growing cybersecurity segment of the market."
About FOCUS LLC
FOCUS LLC provides a range of middle market investment banking services with an emphasis on mergers, acquisitions, divestitures and corporate finance. FOCUS is a national firm serving clients from offices in major cities across the United States. FOCUS specializes in business units with transactions or revenues in the $5-300 million range, serving entrepreneurs, corporate owners and various types of investors across a broad range of industries, throughout the U.S. and worldwide. FOCUS bankers are seasoned operating and financial executives with extensive transaction experience. Securities transactions conducted by FOCUS Securities LLC, an affiliated company, registered Broker Dealer member FINRA/SIPC. For more information on FOCUS, visit www.focusbankers.com/technology.