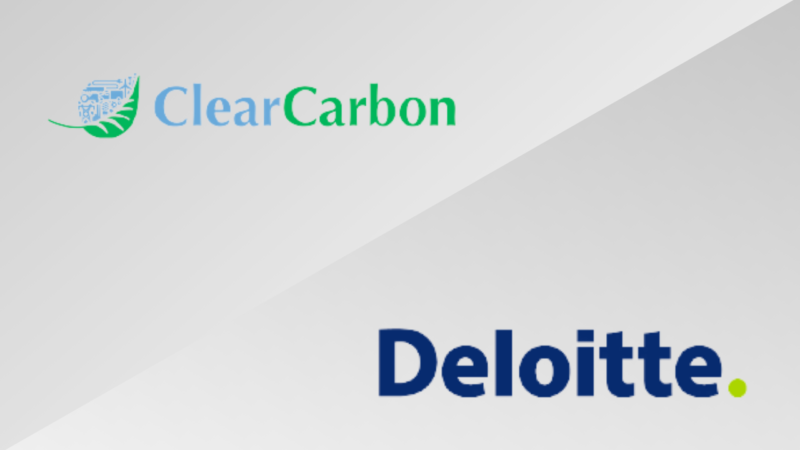 FOCUS Investment Banking Represents ClearCarbon in Business Sale
Industrials & Energy Investment Banking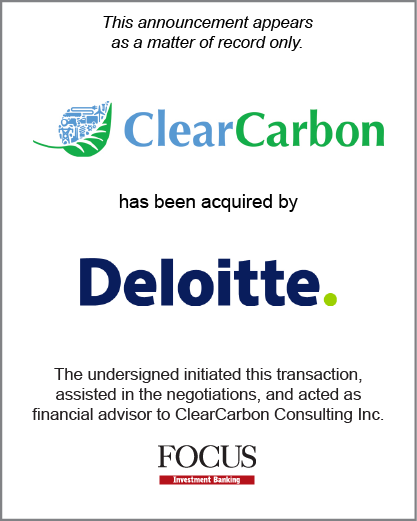 Washington, DC (January 3, 2011) – FOCUS LLC, a national middle market investment banking firm providing merger, acquisition, divestiture and corporate finance services announced that ClearCarbon Consulting, Inc., of Arlington Virginia, has been acquired by Deloitte LLP. FOCUS represented ClearCarbon in the transaction.
ClearCarbon has been dedicated to enhancing competitive advantage and increasing profitability through improved carbon and energy management. ClearCarbon has been recognized as a sustainability industry leader because of the accuracy, transparency and completeness of its analyses and its record of saving money for its clients. Their solutions have helped clients understand their environmental impacts and develop strategies to reduce their carbon footprint, enabling long term financial prosperity and growth in a carbon-constrained world. ClearCarbon has measured and managed the carbon footprints for more than 25,000 locations in 128 countries, serving five Fortune 100 companies.
With ClearCarbon, Deloitte takes a significant step forward in achieving its goal of being a leading sustainability services provider. The new offerings create a hub of sustainability excellence, highlighting a combination of strategic insights and deep knowledge of complex challenges impacting organizations across all industries and sectors.
"I have participated in several sell side transactions and was most impressed with the thoroughness of the auction process and the large number of interested suitors FOCUS generated. This transaction, and our merger with Deloitte, exceeded our expectations and has resulted in the most beneficial outcome for the ClearCarbon team going forward," said Les Rosenthal, board member and investor in ClearCarbon.
According to Rick Thomas, managing director at FOCUS, "We were pleased with the number of financially strong, highly motivated buyers in this space. There is currently a high demand for both consulting and solution-oriented companies in the sustainability industry worldwide."
Doug Rodgers, FOCUS CEO added, "I don't recall another transaction in this size range, in which we received such broad interest internationally; we received interest from companies in North and South America, UK, Netherlands, Australia and Japan, which is surprising given that ClearCarbon was founded in 2007 and has less than 50 employees."
Tom O'Grady of McGuireWoods LLP, ClearCarbon's legal counsel in the transaction noted, "ClearCarbon's rigorous approach to sustainability services combined well with the FOCUS auction process to produce an effective and well executed outcome."
*These testimonials may not be representative of the experience of all clients; testimonials are not a guarantee of future performance or success.
About FOCUS LLC
FOCUS LLC provides a range of middle market investment banking services with an emphasis on mergers, acquisitions, divestitures and corporate finance. FOCUS is a national firm serving clients from offices in major cities across the United States. FOCUS specializes in business units with transactions or revenues in the $5-300 million range, serving entrepreneurs, corporate owners and various types of investors across a broad range of industries, throughout the U.S. and worldwide. FOCUS bankers are seasoned operating and financial executives with extensive transaction experience. Securities transactions conducted by FOCUS Securities LLC, an affiliated company, registered Broker Dealer member FINRA/SIPC. For more information on FOCUS, www.focusbankers.com.