FOCUS Investment Banking Represents QORE in Business Sale
Sell Side M&A Investment Banking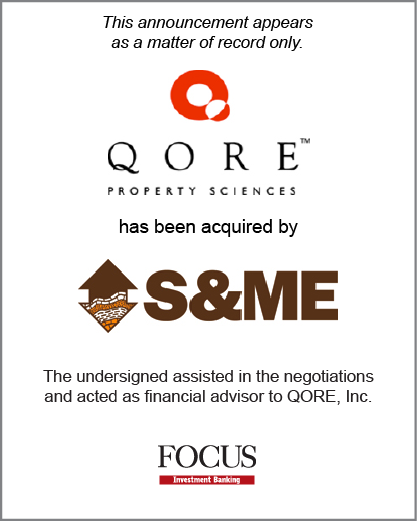 Washington DC (March 8, 2010) – FOCUS LLC, a national middle market investment banking firm providing merger, acquisition, divestiture and corporate finance services, announced today that QORE, Inc. has been acquired by S&ME, Inc. FOCUS represented QORE Property Sciences in this transaction.
As a leading regional provider of geotechnical and environmental engineering services, QORE, headquartered in Atlanta, works with clients in a wide range of industries including energy and utilities, public sector, industrial and manufacturing, insurance and real estate. QORE's services are a vital part of nonresidential construction activity and enable clients to incorporate complex soil and other geologic considerations into their building design processes, comply with environmental regulations and ensure that materials used in the construction process meet pre-contracted specifications.
S&ME, founded in 1973 in Raleigh, is one of the Southeast's most respected engineering firms. Its major service lines include geotechnical engineering; construction materials engineering and testing; environmental services, occupational health and safety; water resources and solid waste engineering; and natural and cultural resources.
Approximately 260 former QORE employees joined S&ME, increasing the company's employment to 1,000. This staff will work from 28 offices in North Carolina, Alabama, Georgia, Florida, Kentucky, South Carolina, Tennessee and Virginia.
According to Rich Pierce, managing director at FOCUS, "This transaction unites two strong engineering and environmental service firms in the Southeastern U.S. to create a single regional leader that can leverage a talented professional workforce and deep expertise in key industry verticals to position itself for future growth."
QORE President and CEO, Bill Johnson adds, "The combined company will benefit from significant economies of scale and expanded geographic reach within its core Southeastern market. QORE shareholders benefit by becoming part of a large, financially stable company with a similar commitment to quality while receiving liquidity for their investment."
SM&E's acquisition of QORE, Inc. comes on the heels of FOCUS' recent representation of Verify Solutions in its acquisition by HMS Holdings.
About FOCUS LLC
FOCUS LLC provides a range of middle market investment banking services with an emphasis on mergers, acquisitions, divestitures and corporate finance. FOCUS is a national firm serving clients from offices in major cities across the United States. FOCUS specializes in business units with transactions or revenues in the $5-300 million range, serving entrepreneurs, corporate owners and various types of investors across a broad range of industries, throughout the U.S. and worldwide. FOCUS bankers are seasoned operating and financial executives with extensive transaction experience. Securities transactions conducted by FOCUS Securities LLC, an affiliated company, registered Broker Dealer member FINRA/SIPC. For more information on FOCUS, visit www.focusbankers.com.