Middle Market Investment Banking Firm FOCUS LLC Represents Pepperweed Advisors in Acquisition by Cognizant, Acquisition by IT Infrastructure Provider Marks Seventh IT Deal for FOCUS in 2009, Indicates Rise in Middle Market Technology M&A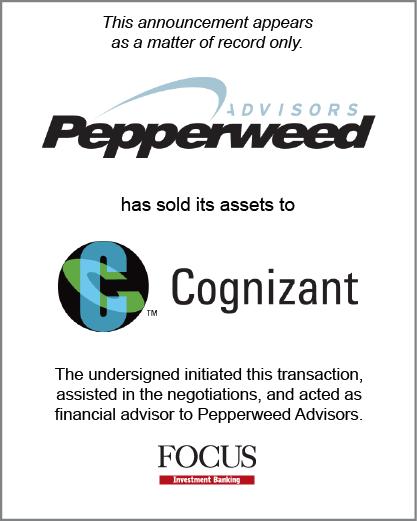 Washington, D.C.(September 14, 2009) – FOCUS LLC, a national middle market investment banking firm providing merger, acquisition, divestiture and corporate finance services, announced today that Pepperweed Advisors has been acquired by Cognizant (NASDAQ: CTSH), a leading provider of consulting, technology and business process outsourcing (BPO) services. FOCUS represented Pepperweed Advisors in this transaction.
Closed in eight weeks, this deal will combine the assets of Pepperweed Advisors' highly specialized intellectual property and IT process models with Cognizant's broader technology and IT infrastructure process consulting offerings. This acquisition offers clients a comprehensive portfolio of consulting and managed services, including enterprise computing, end-user computing, security, IT Infrastructure Library (ITIL) processes and networking technologies.
"By bringing multiple offers from well qualified strategic buyers, FOCUS created some interesting alternatives for us," said Patrick Stewart, CEO of Pepperweed Consulting. "Due to their clear understanding of the IT services industry, we were able to close this transaction very quickly."
"We have been seeing more demand in the IT infrastructure services space and were aware of Cognizant's growing interest in this sector," said Manan K. Shah, partner and government, aerospace & defense team leader at FOCUS. "This transaction is representative of the growing trend of large buyers interested in mid-market technology companies, particularly in IT infrastructure, ERP and consulting services."
"Mastery in an industry gives the owners multiple exit options regardless of the general economy," said George Shea, partner and information technology team leader at FOCUS. "Pepperweed Advisors' proven expertise made them a very attractive acquisition for a number of potential buyers, which is where any mid-market company hopes to be when they look to sell."
Pepperweed Advisors is the information technology (IT) consulting service division of Pittsburgh-based Pepperweed Consulting, the largest Hewlett-Packard software partner in North America. As an "ERP for IT" reference model, the Pepperweed Process Model has been adopted by more than 2,000 IT professionals in 80 countries.
As a Forbes Global 2000 company and a member of the Fortune 1000, Cognizant will benefit from this acquisition by expanding its IT Infrastructure Services (IT IS) practice in two areas—IT Service Management (ITSM) and IT Asset Management (ITAM). Headquartered in Teaneck, N.J., Cognizant operates 50 global delivery centers.
Cognizant's acquisition of Pepperweed Advisors comes on the heels of FOCUS's recent representation of Allin Corporation's Microsoft IT consulting and solutions segments sale to Dell. To date, FOCUS has closed seven deals in the IT sector in 2009.
For more information about FOCUS and its IT sector expertise, visit www.focusbankers.com/technology.
About FOCUS LLC
FOCUS LLC provides a range of middle market investment banking services with an emphasis on mergers, acquisitions, divestitures and corporate finance. FOCUS is headquartered in Washington, D.C. with regional offices in Atlanta and Chicago. FOCUS specializes in business units with transactions or revenues in the $5-300 million range, serving entrepreneurs, corporate owners and various types of investors across a broad range of industries, throughout the U.S. and worldwide. FOCUS bankers are seasoned operating and financial executives with extensive transaction experience. Securities transactions conducted by Wm. H. Murphy & Co., Inc. registered Broker Dealer member FINRA/SIPC. For more information on FOCUS, visit www.focusbankers.com.