FOCUS Investment Banking Announces Sale of Soil Farming Inc.
Sell Side M&A Investment Banking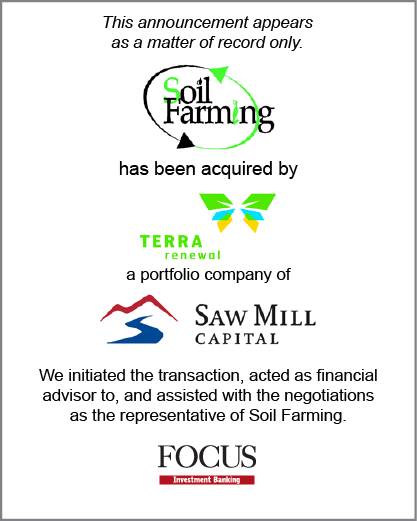 Washington, DC (January 30, 2008) – FOCUS LLC, a national middle market investment banking firm providing merger, acquisition, divestiture and corporate finance services announced today that Soil Farming, Inc. of Oklahoma has been acquired by Terra Renewal Services, a portfolio company of Saw Mill Capital of New York. FOCUS represented Soil Farming in the transaction.
Soil Farming is a diversified oil field services company specializing in the disposal of drilling fluids and solids, utilizing environmentally "green" methods. Services are provided in Oklahoma, Arkansas and Texas and include disposal, fluid handling, and related rentals and services.
Terra Renewal Services, was founded in 1995 and has built a solid reputation in the "green disposal" industry, including poultry, paper, agriculture, food processing, animal food and waste recycling. Today, Terra Renewal is one of the largest privately held wastewater residual management companies in the United States.
William Toellner of Soil Farming, commented, "this will enable our company to accelerate its growth, and continue to support exploration and production clients across a larger geography."
FOCUS bankers Doug Rodgers and Jonathan Wilfong managed this transaction which "is indicative of the consolidation activity in the domestic oilfield services space."
About FOCUS LLC
FOCUS LLC provides a range of middle market investment banking services with an emphasis on mergers, acquisitions, divestitures and corporate finance. FOCUS is headquartered in Washington, D.C. with regional offices in Atlanta, Chicago and San Francisco. FOCUS specializes in business units with transactions or revenues in the $5-300 million range, serving entrepreneurs, corporate owners and various types of investors across a broad range of industries, throughout the U.S. and worldwide, with extensive experience in the oil field services sector. FOCUS bankers are seasoned operating and financial executives with extensive transaction experience. Securities transactions are conducted by Wm. H. Murphy & Co., Inc. registered Broker Dealer member FINRA/SIPC. For more information on FOCUS, visit www.focusbankers.com.