FOCUS Investment Banking Secures $5 Million in Mezzanine Debt Financing for Paramount Merchant Funding, LLC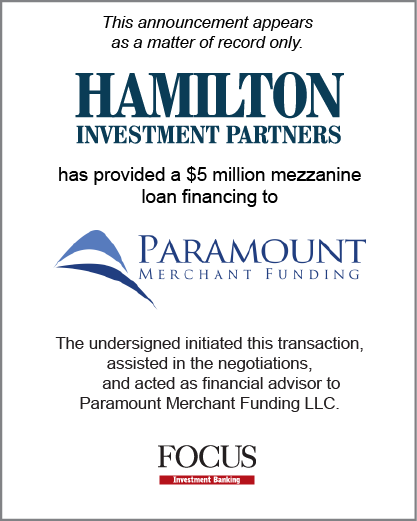 Washington, DC (July 11, 2013) – FOCUS Investment Banking, a national middle market investment banking firm providing merger, acquisition, divestiture and corporate finance services, announced that Paramount Merchant Funding (Paramount) has secured $5 million in mezzanine debt financing from Hamilton Investment Partners, LLC (Hamilton). FOCUS represented Paramount in the transaction.
Paramount provides innovative working capital solutions to small businesses in need of financing to sustain or grow their enterprise. Founded in 2008, Paramount has provided financing to approximately 3,000 businesses. The Company offers extensive flexible funding solutions to a wide range of industries including but not limited to food and beverage, transportation, construction, healthcare and retail. Paramount uses a consultative approach that is supported by a fast, simple and transparent software solution offering real-time data so customers are part of the process every step of the way.
The process was initiated when Todd Sherer of Entrepreneurial Growth Capital (EGC), Paramount's senior lender, recognized that Paramount would need additional junior capital as it continued to grow and introduced Paramount to FOCUS. FOCUS supported Paramount in creating a Confidential Information Memorandum describing its unique business approach, developed and contacted an extensive target list of prospective lenders, advised the company in evaluating its alternatives, negotiated the transaction, and assisted the Company throughout the due diligence and closing process.
The assignment was led by FOCUS Partner John Slater, who heads the firm's Capital Financing Team, and Bob Beard, FOCUS Managing Director. Slater has decades of experience assisting entrepreneurial businesses in obtaining growth financing and Beard spent twenty-five years in the asset based lending industry, where he helped found and manage one of the significant participants in the industry during the 1990s.
"The support from FOCUS reflects the confidence they have in our business and the growth we expect in the future, stated Jared Feldman, Managing Partner, Paramount Merchant Funding. "FOCUS understands our business and well positioned us in front of a variety of lenders. We look forward to expanding our relationship as our business grows."
As the process progressed, EGC introduced Hamilton, a highly successful private equity firm expanding into mezzanine financing, to Paramount and FOCUS and the parties were able to negotiate an approach to the funding tailored to Paramount's specific needs. Doug Hamilton, managing partner of Hamilton Investment Partners, said "I've backed numerous entrepreneurs over the years and in the process have gained a good deal of insight into what makes a business successful. Jared and Dan have built a tremendous organization over the last five years, and we believe they will continue this upward trajectory, and we are excited to be a part of this journey."
*These testimonials may not be representative of the experience of all clients; testimonials are not a guarantee of future performance or success.
About FOCUS LLC
FOCUS LLC provides a range of middle market investment banking services with an emphasis on mergers, acquisitions, divestitures and corporate finance. FOCUS is a national firm serving clients from offices in major cities across the United States. FOCUS specializes in business units with transactions or revenues in the $5-300 million range, serving entrepreneurs, corporate owners and various types of investors across a broad range of industries, throughout the U.S. and worldwide. FOCUS bankers are seasoned operating and financial executives with extensive transaction experience. Securities transactions conducted by FOCUS Securities LLC, an affiliated company, registered Broker Dealer member FINRA/SIPC. For more information on FOCUS, visit www.focusbankers.com.