Middle Market Investment Banking Firm FOCUS LLC Completes Growth Financing for Tribridge from LLR Partners. Transaction Marks Sixth Deal for FOCUS' Software and IT Services Group in 2010.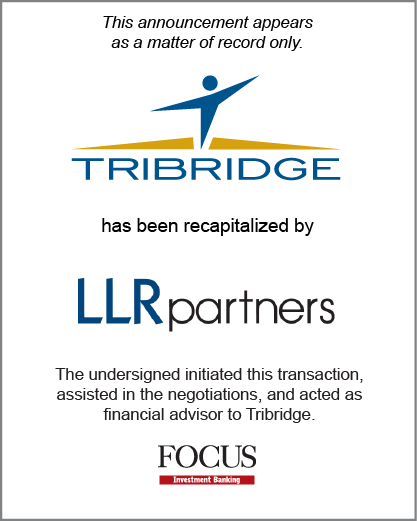 Washington and Atlanta (November 3, 2010) – FOCUS LLC, a national middle market investment banking firm providing merger, acquisition, divestiture and corporate finance services, today announced that Tribridge has received growth capital from LLR Partners, a leading private equity firm with more than $1.4 billion under management. FOCUS represented Tribridge in the transaction. The funds will be used for organic growth and other corporate purposes; LLR has also committed acquisition financing as part of the transaction.
"The purpose of this private equity transaction was to provide capital for future growth," said Tony DiBenedetto, chairman and CEO of Tribridge and winner of the Ernst & Young 2009 Florida Entrepreneur of the Year® Award in technology. "We chose FOCUS over a number of other investment banks to execute this important initiative based on their knowledge of our industry and collaborative style."
Founded in 1998, Tribridge is a national IT services and business consultancy dedicated to helping customers become more productive, profitable, competitive and secure from software selection and implementation to infrastructure design and support, Tribridge delivers both on-premise and cloud computing solutions for CRM, ERP, web portals and other core business systems Tribridge serves more than 2,000 customers throughout the United States and was named the Worldwide Microsoft Dynamics Partner of the Year in both 2008 and 2010.
"Tribridge is a natural fit for LLR Partners. Because of their past investment history, LLR Partners is very familiar with IT services companies," said Manan Shah, partner and co-leader of the Software and IT Services Group at FOCUS. "Their strategic partnership will provide the necessary human capital and financial capital to continue Tribridge's acquisition program."
"The Tribridge transaction is typical of deal activity in 2010. We have seen enormous interest from private equity groups with a specific focus in IT industry growth areas, such as cloud-based solutions and payment systems," said George Shea, partner and team leader of the Software and IT Services Group at FOCUS. "Also, after running lean the past few years, large corporations now have strong balance sheets to execute acquisition strategies."
Supported by a research team with dedicated IT specialists, the FOCUS Software and IT Services Group is comprised of senior partners who were all former CEOs of operating companies. The Group has seen an uptick in IT deal activity with computer software, IT services/consulting and payment systems companies. In 2010, half of FOCUS' deals have been in the software and IT services sector.
For more information about FOCUS and its Software and IT Services Group, visit www.focusbankers.com/technology.
* These testimonials may not be representative of the experience of all clients; testimonials are not a guarantee of future performance or success.
About FOCUS LLC
FOCUS LLC provides a range of middle market investment banking services with an emphasis on mergers, acquisitions, divestitures and corporate finance. FOCUS is a national firm serving clients from offices in major cities across the United States. FOCUS specializes in business units with transactions or revenues in the $5-300 million range, serving entrepreneurs, corporate owners and various types of investors across a broad range of industries, throughout the U.S. and worldwide. FOCUS bankers are seasoned operating and financial executives with extensive transaction experience. Securities transactions conducted by FOCUS Securities LLC, an affiliated company, registered Broker Dealer member FINRA/SIPC. For more information on FOCUS, visit www.focusbankers.com.