FOCUS Investment Banking Represents Software Paradigms International in the Purchase of Shiloh Technologies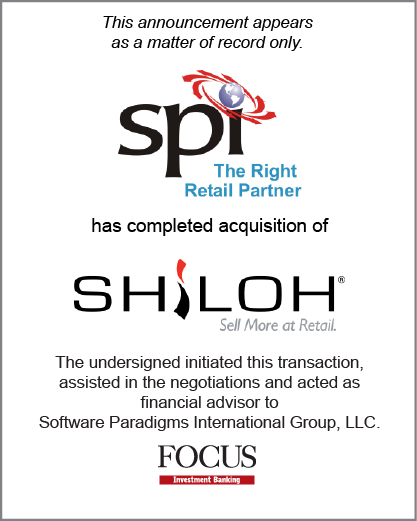 Atlanta, GA, (September 25, 2013) – FOCUS Investment Banking, a national middle market investment banking firm providing merger, acquisition, divestiture and corporate finance services, announced today that Software Paradigms International (SPI) has acquired Shiloh Technologies. FOCUS represented SPI in the transaction.
According to Sid Mookerji, CEO and co-founder of SPI, "Our acquisition of Shiloh Technologies was very strategic, allowing us to extend our product portfolio to provide Point-of-Sale analytics from retailers to their suppliers."
SPI, founded in 1994 and headquartered in Atlanta, GA, is an IT services and solutions provider for retailers around the globe. With offices in Australia, Singapore, Canada, India and Nepal, their technology and back office solutions leverage innovative approaches to improve the profitability and productivity of their clients. SPI offers custom applications development and maintenance, 24x7 support of applications and infrastructure, package implementation, systems integration, QA and testing services.
Shiloh Techologies is a privately held company based in Rogers, AR known for their cutting-edge analytical retail software and unmatched support. Their suite of powerful tools fine-tune a client's data and maximize ROI.
Manan Shah, Partner at FOCUS and Information Technology Team Co-Leader, comments, "SPI's acquisition of Shiloh adds complementary retail analytics capabilities to our client's already strong portfolio of retail software and services offerings. We are pleased to have been able to facilitate such a beneficial transaction." Added George Shea, Focus' IT Team Leader, "This transaction is a perfect fit. We are honored to have helped SPI meet its acquisition objectives."
About FOCUS LLC
FOCUS Investment Banking provides a range of middle market investment banking services with an emphasis on mergers, acquisitions, divestitures and corporate finance. FOCUS is a national firm with a global footprint, serving clients from offices in major cities across the United States. FOCUS specializes in serving clients with transaction size or revenues in the $5-300 million range, representing entrepreneurs, corporate owners and various types of investors across a broad range of industries, throughout the U.S. and worldwide. FOCUS bankers are seasoned operating and financial executives with extensive transaction experience. Securities transactions conducted by FOCUS Securities LLC, an affiliated company, registered Broker Dealer member FINRA/SIPC. For more information on FOCUS and its Information Technology practice, visit www.focusbankers.com/technology.
Inside the Deal
Deal Type
Client(s)
Software Paradigms International Group LLC
Atlanta, GA, U.S.A.
Transaction Partner(s)
Shiloh Techologies
Rogers, AR, U.S.A.
FOCUS Teams Involved