2020 Ophthalmology Deals, By Number of Selling Doctors
We looked at completed ophthalmology deals in 2020 to understand different practice sizes that transacted. A couple of items are of note -
We saw a fairly even distribution of small vs. medium deals, with fewer "large" deals, as expected. Most private equity firms have acquired their large platforms and are now filling-in with small and medium "add-on" transactions.
Around half of the selling groups were represented by an investment banking firm, with most of the unrepresented groups being small.
The size breakdown is shown below: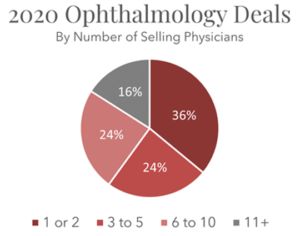 To learn more about our healthcare investment banking services or to discuss your specific situation with no obligation please feel free to call. We are happy to share our knowledge and help you understand your options. All conversations are strictly confidential.
FOCUS Managing Director and Healthcare Team Leader
Direct: 615-477-4741