2020 Marked by Mostly Small Deals in Dermatology
Members of the FOCUS Healthcare team counted approximately 25 closed dermatology transactions in 2020. Of those, fifteen were for small single-dermatologist practices. Ten deals were for two-physician dermatology practices, and five deals were for three-to-six physician groups.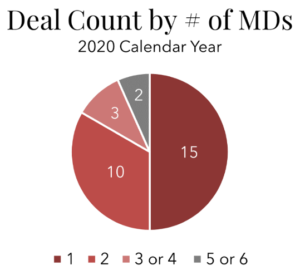 As mentioned in other posts, we believe that private equity's dermatology consolidation has matured. Limited large deals are taking place, and instead groups are completing small add-on acquisitions.
There are still many large and medium groups who are waiting for the right partner. Many have been working to grow on their own and prepare for a sale. For those groups, we believe the timing might be right in 2021. Right now, there is a very competitive market for these strong remaining practices. On a macro level, we seem to be in a strong economic period with potential negative (for sellers) tax changes on the horizon.
To learn more about our healthcare investment banking services or to discuss your specific situation with no obligation please feel free to call. We are happy to share our knowledge and help you understand your options. All conversations are strictly confidential.
FOCUS Managing Director and Healthcare Team Leader
Direct: 615-477-4741