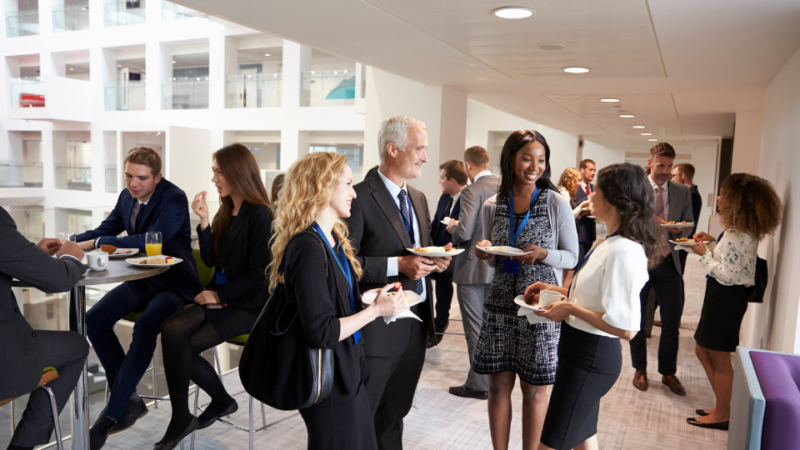 Trends and Takeaways from the 2023 Summer Fancy Food Show
Healthy snacks with a twist, flavors from all corners of the world, and the merging of luxury and convenience were all on the menu at the Summer Fancy Food Show. As one of the largest specialty food industry events in North America, the event showcased thousands of new products from global and domestic companies aiming to land (or expand) on the shelves of retailers. After tasting our way through new products and connecting with dozens of business owners, one thing was clear: production innovation is blazing in the food and beverage industry. Below, we've summarized a few highlights and trends.
Healthy and Delicious: Consumers are much more attuned to what goes in their bodies and specialty producers of all sizes are stepping up to provide flavorful, innovative products that promote health and wellness. Examples include organic puree for infants, natural navy bean and rice snacks, organic veggie snacks, and gluten-free confections. From chips to cookies, we snacked on products packed with health-focused ingredients that were delicious bite after bite.
Convenience is King: The pandemic-fueled shift of cooking at home remains and now the focus is even more on convenience. Advances in freezing techniques have led to an assortment of items, from frozen bakery products that make whipping up a dessert a breeze to elevated appetizers with luxury ingredients (breaded lobster bites, anyone?).
Cross-Cultural Foods and Flavors: Pack your passport because flavors are going global. Companies from across the world shared products that highlighted their respective cultures and heritage including South African dishes such as chakalaka, Italian pizza flour blends, and West African spice blends. From sauces and seasonings to condiments, consumers can explore the world, right from their kitchens.
Regenerative or Upcycled Ingredients: New and established brands are focusing on ingredients that support environmental health and appeal to consumers' interest in regenerative food systems. Examples include kelp products grown in the cold, winter waters off the coast of Maine, bakery products made with upcyled flour, and Regenerative Organic Certified® teas.
Food Fuels Entrepreneurs: The food industry offers plenty of opportunities for new entrants and legacy businesses to meet the rapidly changing tastes of consumers. The Fancy Food Show had hundreds if not thousands of entrepreneur-owned companies with innovative, healthy, and culturally diverse specialty foods. Between the accelerated shift to online food shopping and greater product diversification at conventional retailers, the industry is ripe for new food and beverage brands.
The sold-out Summer Fancy Food Show showed that the food and beverage industry is alive and well, and that specialty foods have demonstrated incredible resilience during the past few years. As we walked the halls and spotted trends, we also had the opportunity to hear questions from business owners. Many of the companies that we met were legacy family businesses with owners making succession plans. We answered questions related to market dynamics, the M&A environment, valuation trends, and exit options such as ESOPs.
The post-pandemic landscape is ripe for strategic acquisitions, as companies seek to expand their market reach, diversify their product offerings, and tap into emerging trends. Additionally, consolidation will be a driving factor as businesses seek to enhance their competitiveness, streamline operations, and leverage synergies to achieve sustainable growth.
We're always happy to speak with business owners considering an M&A opportunity and encourage them to contact FOCUS. Contact Jim Sowers at [email protected] or Barry Calogero at [email protected]