TouchStar Software Corp. has acquired Sigmaworx, Inc.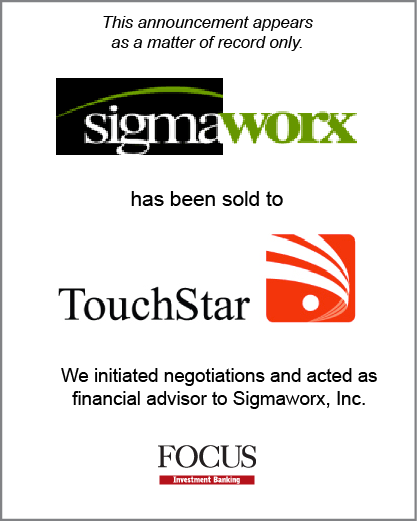 Washington, DC (April 17, 2007) - FOCUS Enterprises, Inc., a national middle market investment banking firm with a global reach providing merger, acquisition, and corporate, structured and project finance services, announced it completed the sale of Sigmaworx, Inc. to TouchStar Software Corporation. FOCUS Enterprises initiated negotiations and acted as financial advisor to Sigmaworx, Inc., a CRM solutions and telemarketing software producer.
Sigmaworx, Inc. designs, builds, implements and supports contact center systems which are deployed worldwide, primarily within the telemarketing industry. In the company's twenty-year history, over 2,000 contact centers have deployed a Sigmaworx system, supporting over 30,000 contact center agents.
About Sigmaworx, Inc.
Established in 1985 as Electronic Technical Services (ETS), Sigmaworx, Inc. 7provides best-of-breed call center software, predictive dialer applications, CRM solutions and telemarketing software. Sigmaworx's product suite increases call center efficiency, improves customer satisfaction and generates additional revenue. Sigmaworx is headquartered in Davenport, IA. For more information on Sigmaworx, please visit www.sigmaworx.com
About TouchStar Software Corporation
Established in 1996, TouchStar Software provides robust predictive dialing and blended inbound/outbound, ACD and IVR features previously affordable to only large companies. TouchStar has its headquarters in Denver, Colorado with additional US offices in New York City. TouchStar Software International currently has offices in Leeds, England; Pune, India, Mumbai, India; and Manila, Philippines. TouchStar Software Corporation, a privately held company, markets its call center solutions primarily to call centers with 12-400 seats. For more information on TouchStar Software, visit www.touchstarsoftware.com
About Focus Enterprises, Inc.
FOCUS is a national middle market investment banking firm providing a range of middle market investment banking services to growth companies across the U.S. with an emphasis on mergers, acquisitions, divestitures and corporate finance. Headquartered in Washington, DC, with regional office in Atlanta, Chicago and San Francisco, FOCUS specializes in transactions for entities with $5-300 million in revenues, serving entrepreneurs, corporate owners, and various types of investors. For more information on FOCUS, visit www.focusbankers.com.
* Testimonials may not be representative of the experience of all clients; testimonials are not a guarantee of future performance or success.