Positive Indicators Point to an Upbeat 2010 M&A Middle Market Forecast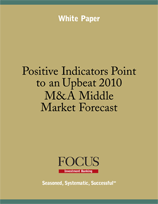 Despite an unprecedented worldwide economic meltdown, FOCUS' middle market merger, acquisition, divestiture and corporate finance business remained active in 2009. On average, the firm served over 40 clients in any given month, and closed 12 transactions during the year.
At the beginning of a new year, it is useful to look back and assess what happened in 2009, and then to look forward to define the trends we believe will make a difference in the middle market M&A industry in the coming year.
Download it here now:  Positive Indicators Point to an Upbeat 2010 M&A Middle Market Forecast