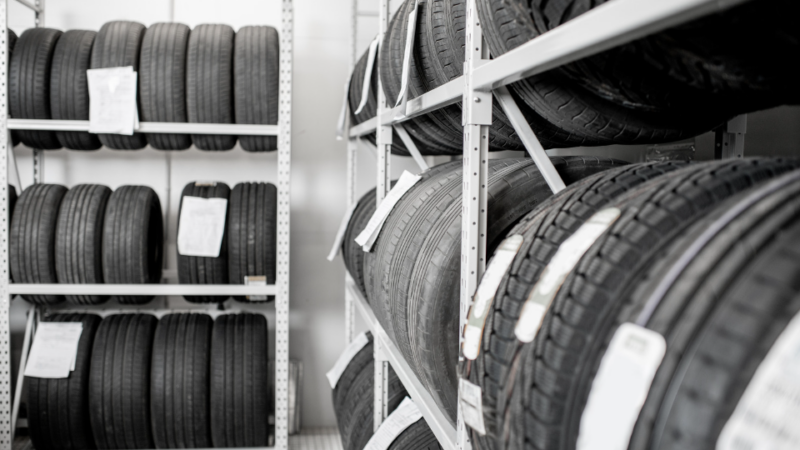 Musings and Advice from a Family-Owned Independent Tire Dealer
Born into tires
Many people say they have been in the tire business their entire lives because they spent a majority of their life in the industry. I was literally born into it. The smell of new tires was something I loved - almost as much as the smell of a fresh Christmas tree during the holidays. By the time I was a toddler, my family had built a tire dealership spanning into 5 states with over 130 locations plus a wholesale division. I grew up wandering the warehouse with my sister and cousins only to hear the overhead pager calling our parents to come round us up. As I got older, I spent more time in the shops near me and began to learn the business from the ground floor. I may have been the owner's son, but I had a genuine interest in the business. My focus was always on absolute customer satisfaction because that customer was very likely a family friend or neighbor.
In High School, I spent several summers working at the tire stores learning the nuances of shop life, from tire busting to sales. After graduating college with a degree in finance, I was brought into the corporate offices where I began my formal training and learned not only about the business but also how to maneuver in a family-run organization.
Family business - dynamics can be interesting
One thing many multi-generational tire dealers can agree on is that as more family comes into the business, the more complicated things can get. Even with defined roles within an organization, the dynamics are always in flux. What I observed was that everyone generally has the best of intentions, it's just that we all may go about problem solving in different ways. The family dynamic whether good or bad bleeds into the company culture and extends into how the company is viewed both within the industry and by customers. Eventually, deciding who in the next generation should take over can lead to conflicts. In our family's case, things led to amicably separating from each other into three distinct and separate companies. To this day we have a great family relationship and I attribute that to the decisions made by our elders.
Having been in the industry for my entire life and in advising tire dealers in transactions, I've seen other instances of families struggling to pass on the business to the next generation. There are only a handful of large companies like Les Schwab and Mavis that have successfully passed the baton, but why have so many others decided to sell? We're seeing many of the younger generation forge their own path outside the family business instead of fighting for the right to the 'throne'. The end result is a sale of the company.
To sell or not to sell
Family dynamics and succession planning aren't the only things that make an independent tire dealer unique. I'd argue the independent tire dealer has a distinct competitive advantage over the large chains today. I spent years competing against national brands and the newer private equity-backed chains. The personal touch of a family-owned independent tire dealer simply cannot be replicated by a large corporate entity. Large companies can say they care about customer service, but the independent tire dealer lives and breathes customer service. We have to. Let's be real, tires are a commodity and everyone competes on price. Yes, the large chains have more buying power, and sometimes you wonder how they even sell a tire at such low margins, but we match that price anyway. We sell the experience! We know that once they are in our door, we will make that customer ours for life. Most of our employees don't treat this as a 9-5 job, they know the owner, they have met family, they have seen our children grow. It's just different and it shows the moment you walk into a shop. That's your competitive advantage. If you are priced competitively, have great customer service, I believe customers will prefer a local family-owned business over a nationwide chain every time.
It's all about the people
The key here is caring and people. You must care for all aspects of your business and for your people. If you don't care about your tire changer, your bookkeeper and your store managers, it will show. But if you fight for them and support them and help them live a successful life you'll find no amount of greener pasture will lure them from you. You don't get that experience in a national chain revolving door. I was just at a local tire shop getting service and the owner pointed out the tenure that each of his technicians had with him. Imagine working 27 years in one store!
Managing and taking care of your employees is a big part of the business, but so is protecting them and yourself. I'm always surprised by the lack of attention and priority given to Human Resources by small business owners. I live in California, one of the toughest places do to business especially when it comes to labor laws and resulting liability. One slip up or major violation can put you out of business. My recommendation is to make sure to communicate to your employees that you do everything 'by the book'. As tedious and immaterial as something may seem, its important to have a clear set of rules and to abide by them even if it means having to write up employees for something as being late to work. Hire attorneys or use your payroll service provider to create a handbook of policies and procedures. We used Paychex to guide us through the best possible plan of action for every possible scenario- from a weapon being brought to the shop (yes it happens!) to something as simple as how to deal with non-compliance of company rules.
The good stuff
A family run business has a myriad of opportunities, excitement and of course its challenges. Navigating the troughs and peaks is what drives us and why most of us have such a hard time exiting the business. The challenge excites us. Being in the tire business means that tires are in your blood. Take care of your business, and it will take care of you.