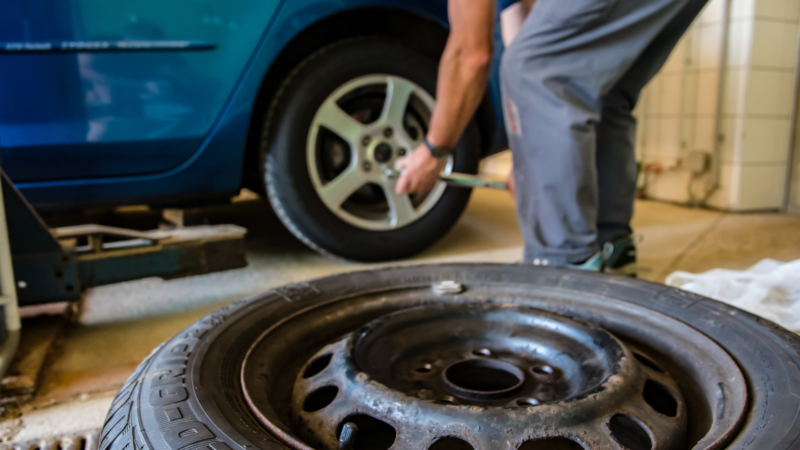 Mobile Tire Service Can Be a Powerful Value-Add for Dealers
Full disclosure - I am a fan of franchised mobile tire businesses. I believe that many independent tire dealers should consider getting a mobile tire franchise because of their relatively low cost, fast entry, proven equipment and processes, customer-facing technology and back-end infrastructure.
Some mobile franchisors have been working on their business models for eight years or more and they might just have the model to help you increase your tire market share. With many big players - including Discount Tire, Bridgestone Americas Inc. and Goodyear Tire & Rubber Co. - working on mobile, this is how a six- to 10-store chain or even a single location "unicorn" with over $5 million in annual revenue can compete with them.
A business associate of mine recently told me that "fortune favors the brave" and I believe that's particularly true for franchised mobile tire businesses. The founders of these businesses risked careers and capital investing time and energy on a new business model. Then along came COVID-19 and the world tilted in their favor. Some tire customers avoided going to stores and being near potential virus carriers. Being contact-free, mobile tire installation took off. And inquiries from potential new franchisees also increased.
I've found the people running these mobile installation companies have a lot of mutual respect for each other. As pioneers building an industry segment, they share ideas and seem to partner with some of the same strategic players like Tire Agent, Tire Rack and others. They also welcome Firestone Direct and Goodyear and Tire Rack's mobile installation programs, as they believe more entrants bring more attention to the mobile tire business. Since many consumers are not even aware that tires can be installed this way, increasing awareness is a good thing for everyone in the segment.
To learn more about the mobile tire business, I only had to look in my backyard here in North Carolina, where Tread Connection and Get Spiffy Inc. are based. While both are doing mobile, they operate with two different strategies. One is about focus and the other is about providing multiple customer touch points. Tread Connection was founded in 2016 by Paul Hosage, a former store supervisor with Clark Tire in Charlotte, N.C. The day that Clark Tire announced it was being acquired by Monro Inc., Hosage went out and bought a Ford Transit van and began upfitting it for mobile tire installation. His initial targets were fleets of all types and owners of high-end cars. (He marketed his new service by visiting high-end car clubs). Hosage figured fleets would provide the volume and would appreciate the convenience of mobile tire installation, while car enthusiasts who value their time wouldn't mind spending the money. (Tread Connection is focused solely on tire installation. The company's model is to do "only one thing very well and that's it," says Hosage). Tread Connection is now seeing more consumer adoption because "people are online, they search for things and want them done at home," says Hosage. The company sources most of its tires from American Tire Distributors Inc. (ATD), conveniently headquartered near Charlotte. That's a partnership that continues to strengthen to this day as ATD's distribution matches up well with Tread Connection's franchise network.
Hosage says that a Tread Connection franchisee can do quite well scheduling between four to six retail appointments per day and selling about 12 tires each day. The company's pricing model is to charge a $50 onsite fee, plus the cost of the tires at standard industry margins and the installation of tires at $25 to $30 per tire. Hosage feels that there is so much potential in selling and installing tires that until Tread Connection fields "hundreds of vans selling tons of tires," he won't be trying other services. He also believes that the future of vehicles is electric, and this change is coming faster than people think. So, investing in oil changes or mechanical work has obsolescence risk associated with it. He also sees mobile tire installation as being complementary with brick-and-mortar retail.
"The biggest downfall of mobile is that you don't have a fixed billboard like a store that people can see (while) driving around," he explains. "Mobile tire guys have to be good at Facebook or Google, pay-per-click and word-of-mouth." Busy brick-and-mortar dealerships that offer mobile service can easily switch an in-store visit to a mobile appointment, says Hosage. Offering mobile is the cheapest way, he believes, of "adding more bays to your existing operation. And you get to charge a convenience fee." Hosage says ideal franchisees for Tread Connection might be multi-store operators who own three or more outlets. A tire dealer like that can leverage its footprint to increase tire volume and market share, he adds.
Another mobile service provider, Get Spiffy, is headquartered in Durham, N.C. Its investors include Goodyear Ventures, Shell Ventures and others. Like Tread Connection, Get Spiffy also has installation agreements with Tire Rack, Tire Agent and ATD. The company was founded by Scot Wingo, a successful hightech entrepreneur who in 2003 diversified his wealth into a few car washes in the area. After taking his first Uber ride, Wingo had an epiphany that all sorts of service businesses would be going digital because "this low- friction experience becomes addictive." One of Wingo's core beliefs is that the American consumer is split between those who seek convenience and those who seek value. He began looking at how he could develop an Uber-like digital experience in automotive services for people seeking convenience, knowing that higher profit margins lay with these customers. With his business partner, Karl Murphy, he targeted vehicle washing and detailing to start, launched an app in 2014, got some vans, took some technicians from his car washes, trained them and launched Get Spiffy.
At a physical car wash, 80% of business is done on the weekends, says Wingo. The first thing he noticed is that requests started coming in for mobile wash appointments mostly mid-week. It became apparent that convenience-seeking customers didn't want to waste their weekend time at the car wash. The company then introduced oil changes, "really for consumers, but (it also) had this unintended consequence of unlocking fleets for us. What we found is fleets of all sorts have a huge problem with getting preventive maintenance. "And I think tires are like that. We keep it simple and walk the consumer to tires with, 'All right, we've washed your car a couple of times and changed its oil. Your tire tread is low. Would you like this same experience for tires?'
"I come from the e-commerce world and one way to look at (it) is, 'What does it cost to acquire a customer?' And then you look at the lifetime value of that customer. When we sell and install tires, it's just increasing our lifetime customer value. We don't have to acquire that customer to also sell them tires. We've already done other services for them most of the time. But if they come to us for tires first, that's fine, too. I want to sell them tires, then I want to sell them wash and oil. Because we're providing a holistic car care experience, that math works versus spending $100 to acquire a customer, selling them tires and then not seeing them again for three or four years. "We're touching 3,000 cars a day right now, with 250 mobile vans and 400 techs across the United States. And we grew 140% year-over-year" during 2021. Get Spiffy owns and operates its own vans in 26 markets. It also started franchising a year ago and now has 10 franchise partners. The company's strategy on geography is that if it's in a large metro area with well over a million people, it wants to own and operate its own vans. Get Spiffy believes there are 40 of those markets and intends to franchise in smaller metro areas.
Wingo has an interesting take on where brick-and-mortar retail ends up that I believe all tire dealers need to hear. "The convenience-oriented consumer is not going to tolerate the current experience of either dropping the car off for a long period of time or coming in and waiting in a room. They're super-busy and they will pay extra for a competing service that goes to them. "For a long time, retail stores said, 'E-commerce is a fad.' Walmart's first stab at e-commerce was a separate company that was just going to do its own thing. And then they realized that it is a fundamental change in how the customer operates.
"There will always be a value-oriented customer. And the value-oriented consumer, I think, will continue to go to brick-and-mortar (operators) because they will trade off their time for saving money." Think about this, though. If the convenience-oriented customer gravitates to the mobile experience, some brick-and-mortar retailers could be left with a customer base slanted towards price-sensitive, value-seekers. Mobile gives brick-and-mortar dealers an opportunity to capture both.
This article was previously published on Modern Tire Dealer.