Middle Market Investment Banking Firm FOCUS LLC Represents Verify Solutions in Acquisition by HMS Holdings Acquisition of Healthcare Audit Company Marks 12th Deal for FOCUS in 2009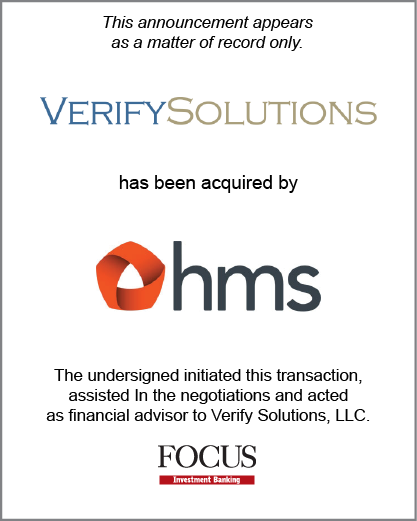 Washington, DC and Atlanta, GA (January 7, 2010) – FOCUS LLC, a national middle market investment banking firm providing merger, acquisition, divestiture and corporate finance services, announced that on December 31, 2009, substantially all of the assets of Verify Solutions were acquired by HMS Holdings Corp. (NASDAQ:HMSY), a leader in coordination of benefits and program integrity services for government healthcare programs. FOCUS represented Verify Solutions in this transaction.
According to Jonathan Wilfong, regional managing partner and healthcare and life sciences team co-leader, "The acquisition allows HMS to provide services in the employer-based market with valuable new services that fit well with their mission to help control healthcare costs."
About Verify Solutions
Verify Solutions, an Atlanta-based firm, specializes in audits for large and midmarket employers seeking to better manage their healthcare costs by verifying the eligibility of their employees' dependents. The 30-member team executes audits using tested and documented processes, supported by a proprietary software management platform for managing data, tracking progress and reporting results to clients in real time. Their dependent eligibility services provide savings throughout the benefit cost structure, including medical, prescription drug, dental, and vision plans. Susan Massey and Alan Rose, vice presidents of HMS and former shareholders of Verify were quoted as saying, "HMS and Verify Solutions share a philosophy based upon exceptional client service. HMS' experience with scaling operations while maintaining superior client service will be invaluable as the organization responds to meet rapidly growing demand for Dependent Eligibility Audit Services in the public and private healthcare plan arena. We are very excited to join such an outstanding organization."
About HMS
HMS is the nation's leader in coordination of benefits and program integrity services for healthcare payors. HMS's clients include health and human services programs in more than 40 states; commercial programs, including commercial plans, employers, and over 100 Medicaid managed care plans; the Centers for Medicare and Medicaid Services (CMS); and Veterans Administration facilities. Focused exclusively on the healthcare industry, HMS helps clients ensure that claims are paid correctly and by the responsible party, and that those enrolled to receive program benefits meet qualifying criteria. "As healthcare reform takes shape, employers will continue to play a critical role in how citizens receive healthcare coverage " said Bill Lucia, Chief Executive Officer of HMS. "This acquisition moves HMS into the employer-based market with a valuable new service that fits well with our mission to help control healthcare costs. This new service is consistent with our current offerings, which ensure that individuals are properly identified with the correct insurance coverage."
About FOCUS LLC
FOCUS LLC provides a range of middle market investment banking services with an emphasis on mergers, acquisitions, divestitures and corporate finance. FOCUS is a national firm serving clients from offices in major cities across the United States. FOCUS specializes in business units with transactions or revenues in the $5 - 300 million range, serving entrepreneurs, corporate owners and various types of investors across a broad range of industries, throughout the U.S. and worldwide. FOCUS bankers are seasoned operating and financial executives with extensive transaction experience. Securities transactions conducted by FOCUS Securities LLC, an affiliated company, registered Broker Dealer member FINRA/SIPC. For more information about FOCUS and its Healthcare and Life Sciences sector expertise, visit www.focusbankers.com/health.