Middle Market Investment Banking Firm FOCUS LLC Represents SBC Systems Company, Inc. in Acquisition by Morneau Shepell Ltd. SBC is a leader in employee benefits administration systems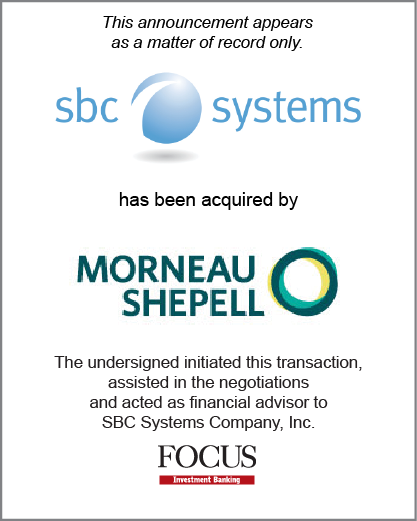 Atlanta, GA (February 6, 2012) – FOCUS LLC, a national middle market investment banking firm providing merger, acquisition, divestiture and corporate finance services announced that the business of SBC Systems Company, Inc. has been acquired by Morneau Shepell. FOCUS represented SBC Systems in the transaction.
SBC Systems, headquartered in Atlanta, Georgia, and its affiliate in the UK, is a leading provider of employee benefits administration systems, serving clients in the United States and the United Kingdom in a wide variety of industries. SBC's platform manages benefits plans both onsite and through a SaaS model. It provides self-service functionality, management reporting, workflow, and integrates with vendors and internal departments, making it easier to manage benefits. The platform can handle multiple business units or country operations in a single installation. SBC's software manages the complexities of employee benefits administration by leveraging leading-edge technology to deliver world-class, flexible employee benefits administration solutions.
Morneau Shepell Ltd. ("Morneau Shepell") is the largest Canadian-based firm offering industry-leading benefits and pension consulting, outsourcing, as well as health and productivity solutions. The company works with clients to develop end-to-end insights and solutions that integrate with their business strategies to achieve results. Through benefits and health solutions consulting, pension consulting, health management, administration solutions and an employee assistance program, Morneau Shepell helps clients reduce costs, increase employee productivity, and improve their competitive positions by supporting their employees' financial security, health and well-being.
According to Peggy Horn, president of SBC, "The SBC management team sees significant opportunity in joining a large and innovative player in administration solutions like Morneau Shepell. With the backing of Morneau Shepell, we are very excited about the road ahead, both for our business and our existing clients."
Jonathan Wilfong, regional managing partner of FOCUS, added, "This transaction allows Morneau Shepell to expand its U.S. presence and further build its administration platform while offering new services to SBC's existing client base."
*These testimonials may not be representative of the experience of all clients; testimonials are not a guarantee of future performance or success.
About FOCUS LLC
FOCUS LLC provides a range of middle market investment banking services with an emphasis on mergers, acquisitions, divestitures and corporate finance. FOCUS is a national firm serving clients from offices in major cities across the United States. FOCUS specializes in business units with transactions or revenues in the $5-300 million range, serving entrepreneurs, corporate owners and various types of investors across a broad range of industries, throughout the U.S. and worldwide. FOCUS bankers are seasoned operating and financial executives with extensive transaction experience. Securities transactions conducted by FOCUS Securities LLC, an affiliated company, registered Broker Dealer member FINRA/SIPC. For more information on FOCUS, visit www.focusbankers.com.