Middle Market Investment Banking Firm FOCUS LLC Represents PositiveID Corporation in Acquisition of MicroFluidic Systems, a Leader in Biological Testing and Sample Prep Applications. Acquisition Reinforces Trend of Increased M&A Activity in the Healthcare and Life Sciences Industry.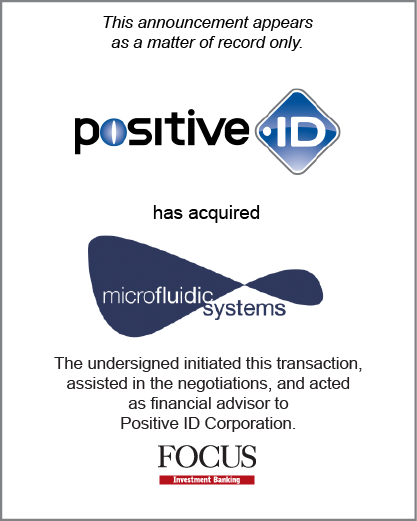 Washington DC (June 3, 2011) – FOCUS LLC, a national middle market investment banking firm providing merger, acquisition, divestiture and corporate finance services, announced today that PositiveID Corporation ("PositiveID") (Nasdaq:PSID), has acquired MicroFluidic Systems (MFSI). FOCUS represented PositiveID in the transaction. MFSI's strong portfolio of intellectual property related to sample preparation and rapid medical testing will complement PositiveID's virus detection and diabetes management focus, as well as provide expanded capabilities for homeland security applications.
"With our recent announcement of our development of a sample prep application for improved biological testing, we believe this acquisition fits very well with our expanded focus on the convergence of diagnostics and biological detection for both healthcare and homeland security applications. We are very excited to join forces with MFSI and its management team," said Scott Silverman, Chairman and CEO of PositiveID. "We chose FOCUS to execute this important initiative for us based on their knowledge of our industry and their professional style."
Positive ID develops and markets healthcare and information management products through its diagnostic devices and identification technologies, and its proprietary disease management tools. Positive ID's implantable healthcare devices and external hardware and software products are designed to communicate wirelessly to improve healthcare and the patient's quality of life.
MFSI is focused on the development of microfluidic systems for automated preparation of and performance of biological assays. MFSI personnel have been involved with the development of automated DNA-based pathogen detection systems and microfluidics for the U.S. Government and commercial markets for over 25 years, including the world's first miniaturized, portable, battery-operated, real-time, PCR-based detection system.
Eric Oganesoff, Managing Director at FOCUS LLC, who led the search and transaction, stated, "We are proud to have represented PositiveID in their acquisition of a fine company like MFSI. George Shea, a FOCUS Partner, and I worked as a team to help the superb team at PositiveID to find the right acquisition and close this transaction."
About FOCUS LLC
FOCUS LLC provides a range of middle market investment banking services with an emphasis on mergers, acquisitions, divestitures and corporate finance. FOCUS is a national firm serving clients from offices in major cities across the United States. FOCUS specializes in business units with transactions or revenues in the $5-300 million range, serving entrepreneurs, corporate owners and various types of investors across a broad range of industries, throughout the U.S. and worldwide. FOCUS bankers are seasoned operating and financial executives with extensive transaction experience. Securities transactions conducted by FOCUS Securities LLC, an affiliated company, registered Broker Dealer member FINRA/SIPC. For more information on FOCUS, visit www.focusbankers.com.