Middle Market Investment Banking Firm FOCUS LLC Represents Henkel Corrosion Engineering in Acquisition by Ergon, Asphalt & Emulsions, Inc.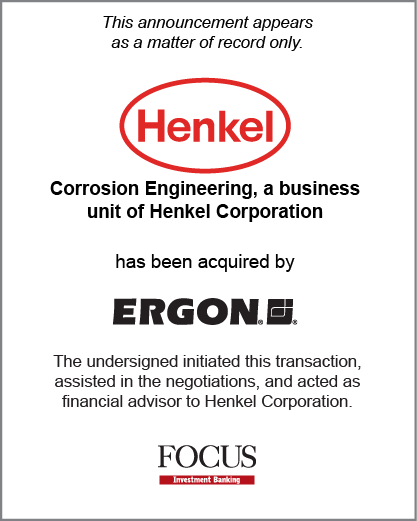 Washington, DC (December 30, 2011) – FOCUS LLC, a national middle market investment banking firm providing merger, acquisition, divestiture and corporate finance services announced that substantially all of the assets of Henkel Corporation's Corrosion Engineering business have been acquired by the ErgonArmor division of Ergon Asphalt & Emulsions, Inc. part of Ergon, Inc, in Jackson, MS. FOCUS represented Henkel Corporation in the transaction.
Henkel Corrosion Engineering is a leading provider of sophisticated materials systems for corrosive environments. The business has operated for over 70 years, offering a diverse line of corrosion protection products and materials for coal fired power plants, chemical plants and food and beverage manufacturers. Existing Corrosion Engineering sales and support staff will remain in place.
According to Gerald Turner, Managing Director, FOCUS Investment Banking, "We were pleased with the final outcome of our process in which we contacted many potential buyers, both in the US and abroad. Several letters of intent were received and ultimately the best decision was made."
Ergon Asphalt & Emulsions, Inc. operates as an asphalt and emulsion producer and marketer. The company specializes in the development of superior engineered paving and preservation products.
Doug Rodgers, FOCUS CEO, commented, "We sincerely enjoyed the opportunity to advise Henkel, one of the largest and most respected companies in Germany, with more than a century of experience providing high quality products worldwide."
About FOCUS LLC
FOCUS LLC provides a range of middle market investment banking services with an emphasis on mergers, acquisitions, divestitures and corporate finance. FOCUS is a national firm serving clients from offices in major cities across the United States. FOCUS specializes in business units with transactions or revenues in the $5-300 million range, serving entrepreneurs, corporate owners and various types of investors across a broad range of industries, throughout the U.S. and worldwide. FOCUS bankers are seasoned operating and financial executives with extensive transaction experience. Securities transactions conducted by FOCUS Securities LLC, an affiliated company, registered Broker Dealer member FINRA/SIPC. For more information on FOCUS, visit www.focusbankers.com