Middle Market Investment Banking Firm FOCUS LLC Represents Global Axcess Corp in its Acquisition of Tejas Video Partners.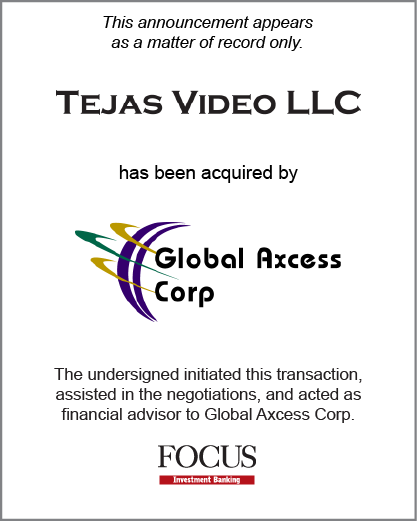 Washington, DC (February 18, 2011) – FOCUS LLC, a national middle market investment banking firm providing merger, acquisition, divestiture and corporate finance services, announced today that Global Axcess Corp (OTC Bulletin Board: GAXC) has acquired Tejas Video Partners. FOCUS represented Global Axcess in this transaction.
Headquartered in Jacksonville, Florida, Global Axcess was founded in 2001 with a mission to emerge as the leading independent provider of self-service kiosks in the United States. Global Axcess owns, manages or operates more than 5,300 ATMs and other self-service kiosks in its national network spanning 43 states.
Tejas Video is a national provider of DVD rental machines. Their primary contract is with The Army and Air Force Exchange Service which includes 250 kiosks deployed at 220 locations on over 70 bases. As a result of the acquisition, Global Axcess' total number of DVD rental kiosks now exceeds 600, located in grocery store chains and U.S. military bases.
Mr. Michael Loiacono, Chief Financial Officer of Global Axcess, stated, "The addition of Tejas Videos to our core business is substantial. This acquisition will enable us to gain access to greatly expanded market opportunities, to rapidly deliver new DVD kiosk installations, and to achieve synergies in our operations and knowledge base. We look forward to the success that this partnership will bring."
Marshall Graham, Chairman of FOCUS, and Rick Thomas, Managing Director co-managed this assignment and contacted over 150 kiosk manufactures and vendors to complete this buy side mandate. According to Graham, FOCUS interviewed in excess of 40 CEOs to complete the search. The final selection for acquisition was Tejas Video Partners. According to Rick Thomas from FOCUS, "the acquisition of Tejas is very strategic to Global as it leverages their exceptional site management and customer relationship expertise. This acquisition should result in substantial economies of scale for Global, add substantial size to their already successful DVD business and assist Global in entering a new market - government."
Mr. George McQuain, Chief Executive Officer of Global Axcess, stated "the acquisition of Tejas Videos' DVD portfolio and our recent acquisition of mid-West based ATM portfolio are the first of a series of opportunities we are seeking to strategically grow our business. The FOCUS process of identifying primarily privately-held not-for-sale companies was extremely beneficial to our strategic planning and external growth execution. By simultaneously learning about a wide array of kiosk opportunities in the market and having parallel discussions with dozens of owners, we were not only able to determine what we wanted to acquire, but also areas that were not of real strategic interest to us currently."
About FOCUS LLC
FOCUS LLC provides a range of middle market investment banking services with an emphasis on mergers, acquisitions, divestitures and corporate finance. FOCUS is a national firm serving clients from offices in major cities across the United States. FOCUS specializes in business units with transactions or revenues in the $5-300 million range, serving entrepreneurs, corporate owners and various types of investors across a broad range of industries, throughout the U.S. and worldwide. FOCUS bankers are seasoned operating and financial executives with extensive transaction experience. Securities transactions conducted by FOCUS Securities LLC, an affiliated company, registered Broker Dealer member FINRA/SIPC. For more information on FOCUS, visit www.focusbankers.com.