Middle Market Investment Banking Firm FOCUS LLC Represents Drain-All, Inc. in Acquisition by Control Devices, LLC, a Portfolio Company of Corridor Capital
Atlanta, GA (April 26, 2011) – FOCUS LLC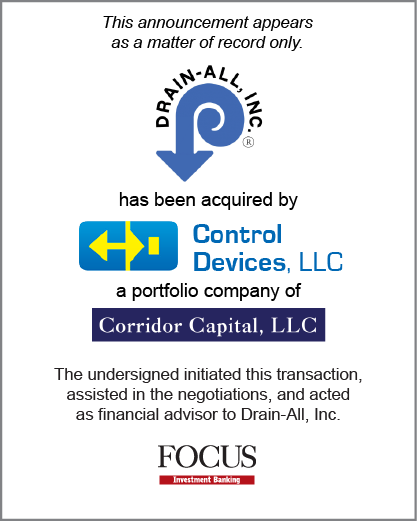 , a national middle market investment banking firm providing merger, acquisition, divestiture and corporate finance services announced that Drain-All, Inc., of Knoxville, Tennessee, has been acquired by Control Devices, LLC a portfolio company of Los Angeles-based Corridor Capital, LLC. FOCUS represented Drain-All in the transaction.
Founded in 1982, Drain-All designs, manufacturers and markets unique product solutions for draining and handling liquids, specializing in condensate removal from compressed air and gas equipment and systems, and also offers other products for refrigeration and process equipment. Drain-All's core product is a pneumatic, zero-loss condensate trap that captures and drains liquid from industrial compressed air and gas systems without discharging expensive compressed air or gas into the atmosphere. Drain-All's products are considered to be "Green Investments" by industry experts and end users due to their energy saving characteristics.
According to Drain-All CEO and Co-Owner Lester V. Ottinger, "I am extremely pleased that Drain-All has become part of Control Devices since both are global industry technology leaders."
Jonathan Wilfong, Regional Managing Partner, Southeast, added, "The combination of these two "best in class" companies will accelerate their revenue growth and greatly expand their product and service offerings."
Control Devices is a leading manufacturer of high quality flow control valves serving the compressed air, pressure washer, vehicle systems, fire protection, industrial float valve, food service equipment and specialty gas industries. Control Devices offers a complete line of standard products and prides itself on its ability to design and manufacture engineered solutions for its customer.
Corridor Capital, a lower middle market private equity firm investing in the specialty manufacturing, business services and environmental services sectors, acquired a majority interest in Control Devices in 2007 and actively supported Control Devices in its third add-on acquisition.
About FOCUS LLC
FOCUS LLC provides a range of middle market investment banking services with an emphasis on mergers, acquisitions, divestitures and corporate finance. FOCUS is a national firm serving clients from offices in major cities across the United States. FOCUS specializes in business units with transactions or revenues in the $5-300 million range, serving entrepreneurs, corporate owners and various types of investors across a broad range of industries, throughout the U.S. and worldwide. FOCUS bankers are seasoned operating and financial executives with extensive transaction experience. Securities transactions conducted by FOCUS Securities LLC, an affiliated company, registered Broker Dealer member FINRA/SIPC. For more information on FOCUS, visit www.focusbankers.com.