Middle Market Investment Banking Firm FOCUS LLC Represents Crossroads RMC in MES Software Product Acquisition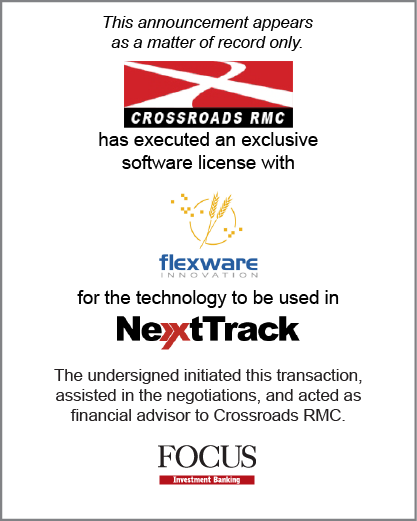 Atlanta, GA and Washington, DC (June 2, 2010) – FOCUS LLC, a national middle market investment banking firm providing merger, acquisition, divestiture and corporate finance services, announced today that Crossroads RMC has executed a worldwide license for technology to be used in its next generation software product, NextTrack.
Based in Lisle, Illinois with satellite offices in Wisconsin, Crossroads RMC helps manufacturers increase productivity and manage costs with a complete suite of manufacturing operation solutions tightly integrated with industry-leading ERP solutions. The combination of top quality software and strong manufacturing and ERP expertise make Crossroads RMC the leading source for manufacturing operation solutions, including MES, data collection and time tracking.
According to David Dickson, Principal at Crossroads RMC, "We faced a critical make or buy decision regarding the technology that is the foundation for NextTrack. FOCUS found numerous opportunities for us, and helped us select the very best alternative. We shaved at least 24 months off our time to market, and the result is a much stronger product at the initial release. This is the second transaction I have completed with George Shea, who sold my first company. George and his research group found a real needle in the haystack for us—we're all very excited about NextTrack's potential."
George Shea, FOCUS Partner and Software and Services Group Team Leader, explains, "It was a pleasure to work again with David and his first-class organization. Crossroads RMC has established an enviable track record for quality products and services, and we are glad to have found them such a great product suite addition in NextTrack."
About FOCUS LLC
FOCUS LLC provides a range of middle market investment banking services with an emphasis on mergers, acquisitions, divestitures and corporate finance. FOCUS is a national firm serving clients from offices in major cities across the United States. FOCUS specializes in business units with transactions or revenues in the $5-300 million range, serving entrepreneurs, corporate owners and various types of investors across a broad range of industries, throughout the U.S. and worldwide. FOCUS bankers are seasoned operating and financial executives with extensive transaction experience. Securities transactions conducted by FOCUS Securities LLC, an affiliated company, registered Broker Dealer member FINRA/SIPC. For more information on FOCUS, visit www.focusbankers.com; for more information on FOCUS' Software and Services Group, please see www.focusbankers.com/technology.