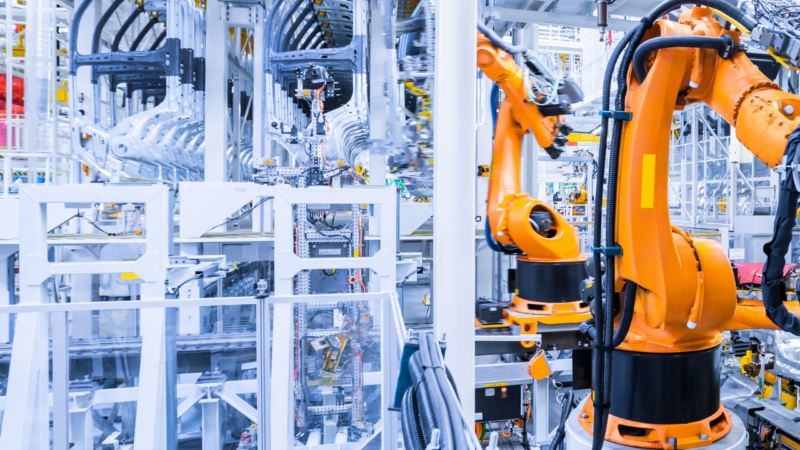 Machine Shop Robots Get Real
Ten years ago, many of the tasks in a high-precision machine shop could be done by easily hirable shop floor employees. Not anymore. Today every shop owner has to deal with the increasingly frustrating task of recruiting qualified workers.
Fortunately, the world of robotics has made enormous strides, particularly with the advent of affordable cobots—short for collaborative robots—which can realistically support your machinists. With the shortage of skilled labor showing no signs of easing, automation can free up machinists to do more challenging and more profitable work—the kind of work they want to do—while the robots take on the dull, dangerous and dirty jobs formerly done by entry-level employees.
Robotic automation is no longer the exclusive domain of giant manufacturers making thousands of identical parts. Now, even small metalworking shops can—and increasingly must, if they are to survive—automate at least part of the production of low-volume, high-mix orders. At a relatively small cost in capital and quicker time-to-production, robotic automation can pay huge dividends and a quick return on investment. While automation can't do all the tasks in a machine shop—at least not yet—it can reduce the amount of work that must be done by a human.
For the growing number of private equity acquirers focused on consolidating the machining and metalworking industry, shops that demonstrate smart use of automation attract more attention and higher valuations. A heavily automated, highly efficient shop is not only more likely to be more profitable, but also able to take on more new business, adding even more value to the enterprise. Not to mention the increase in quality, which also enhances margins.
To better understand the benefits of cobot automation and how it works on the shop floor, we spoke to two leading providers of automated tools to small shops that target two of the most time consuming and difficult to staff processes—quality control and welding.
Dave Henderson is CEO of New Scale Robotics in Victor, New York. His company has pioneered a class of ultra-high precision micro robotic grippers to automate one of the most labor-intensive aspects of machining. Its Q-Span workstations automate the sorting and measurement of high-mix, small-batch manufactured parts, helping eliminate QC bottlenecks and improving utilization rates.
Josh Pawley is founding partner and vice president of business development at Vectis Automation, a Loveland, Colorado-based company that provides cobots that automate the "dull, dirty and dangerous" aspects of the welding shop. Vectis addresses the same core problem, the lack of a trained workforce throughout the metalworking industry.
"The shortage of welders and skilled fabricators is the biggest driver of our business," Pawley told us. "But the most dull and dirty jobs can be supplemented with automation."
Many owners—and their employees—are daunted by the prospect of automating even part of their shop. Both Pawley and Henderson agree that small machine shops should start small, automating only those functions that most lend themselves to being done by a robot, which usually are those tasks that human workers don't want to do and can be done more cost effectively by a robot.
"Start with the simple stuff," Pawley advises. "Crawl, walk, run. That's the key to psychological success as well. Get the quick win and go from there."
At the very least, "if you are not automated yet, it's time to start looking," he says. "Start the conversation soon. The labor shortage isn't getting any better."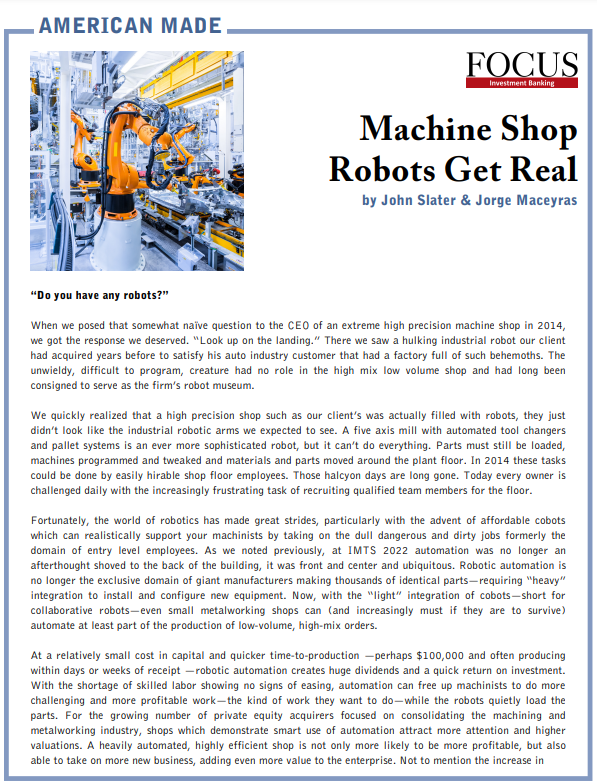 To read the full article, click here. If it prompts some follow-up questions on how robotic automation can affect your business, please feel free to reach out to FOCUS Managing Director, Jorge Maceyras. Our Advanced Manufacturing team is composed of seasoned investment bankers and advisors with extensive operating experience in manufacturing and distribution backed by a deep research team. They can help business owners navigate this new and unfamiliar terrain.