FOCUS Represents TouchStar in Acquisition of Data-Tel Solutions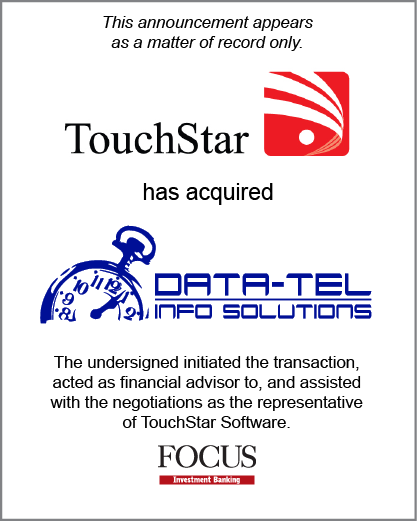 Washington, DC (November 14, 2007) – Today, FOCUS, LLC a national middle market investment banking firm providing merger, acquisition, divestiture and corporate finance services, announced they represented TouchStar in its recent acquisition of Data-Tel, Solutions.
"TouchStar purchased Data-Tel because of the performance oriented technology they offer to a wide network of more than 500 call center customers, which aligns with TouchStar's strategic growth plan," said John Bradshaw, FOCUS Partner.
TouchStar develops and supports world class call center technology with on-site and hosted deployment options. TouchStar serves over 2,500 businesses on six continents from its headquarters in Denver, Colorado, and offices in New York, Phoenix, Davenport, Mumbai, Manila, and Manchester. TouchStar's fully integrated products include: inbound and outbound call center software, PSTN and VoIP telecommunications hardware, predictive dialers, automated voice messaging, scripting, recording, monitoring, quality analysis, advanced ACD & IVR, reporting, compliance management, and an IP PBX phone system.
Steve Bederman, CEO of TouchStar, commented: "FOCUS has been a wonderful partner. We are looking forward to working with FOCUS through a series of planned global acquisitions and expansions in the months ahead."
Arizona-based Data-Tel has been providing call center systems since 1991. They were one of the first companies to develop and utilize advanced predictive dialer technology. As a TouchStar company, Data-Tel will continue to serve its clients and offer a wider range of available products and services.
About FOCUS
FOCUS, LLC provides a range of middle market investment banking services across the U.S. with an emphasis on mergers, acquisitions, divestitures and corporate finance. FOCUS is headquartered in Washington, D.C. with regional offices in Atlanta, Chicago and San Francisco. FOCUS specializes in business units with transactions or revenues in the $5-300 million range, serving entrepreneurs, corporate owners and various types of investors across a broad range of industries, throughout the U.S. and worldwide. FOCUS bankers are seasoned operating and financial executives with extensive transaction experience. Securities transactions are conducted by affiliated FINRA broker dealer, Wm H. Murphy Co. For more information on FOCUS, visit www.focusbankers.com.