FOCUS Investment Banking Represents Sound Seal in Acquisition by Management and Hamilton Robinson Capital Partners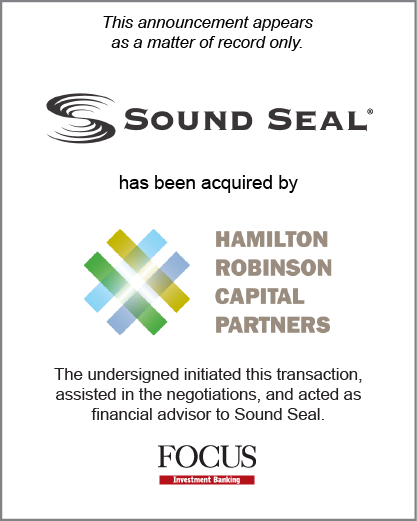 Washington, DC (January 10, 2014) – FOCUS Investment Banking, a national middle market investment banking firm providing merger, acquisition, divestiture and corporate finance services, announced today that management and an investor group led by Hamilton Robinson Capital Partners has acquired Sound Seal, a provider of soundproofing and noise control products. FOCUS represented Sound Seal in the transaction.
Sound Seal, located in Agawam, Massachusetts, is a leading manufacturer of commercial and architectural acoustic noise control products and offers a wide product selection to the sound proofing industry. The architectural and flooring divisions provide solutions for interiors and the industrial division provides solutions for community noise, construction noise and in-plant noise abatement. Sound Seal brands include Impacta, Woodtrends and Sound Quality.
Hamilton Robinson Capital Partners was founded in 1984 to invest directly in small, privately held manufacturing, distribution and service businesses. Chris Lund, Partner at Hamilton Robinson stated, "Sound Seal's culture, products, financial performance and focus on delivering world-class solutions is a very powerful combination. We are thrilled to support Sound Seal's management team in their purchase of the company and to partner with Joe Lupone as he leads the company as CEO in its next phase of growth and development."
According to Doug Rodgers, FOCUS CEO, "This transaction is representative of a classic 'baby boomer' retirement event. It enables the founder's retirement, and the employees and business are poised for major growth fueled by new capital and leadership. This approach is truly a 'win-win' event and representative of our transaction process for business owners."
Rick Thomas, FOCUS Managing Director, added, "We evaluated hundreds of potential transaction partners and had dialogue with several dozen before recommending Hamilton Robinson as a partner for this business."
Dave Gilbert, General Manager of Sound Seal shared his enthusiasm, "With this new partnership, Sound Seal will continue its commitment to growth. We are flattered that the retiring founders will remain involved with the company going forward."
*These testimonials may not be representative of the experience of all clients; testimonials are not a guarantee of future performance or success.
About FOCUS LLC
FOCUS provides a range of middle market investment banking services with an emphasis on mergers, acquisitions, divestitures and corporate finance. FOCUS is a national firm serving clients from offices in major cities across the United States. FOCUS specializes in business units with transactions or revenues in the $5-300 million range, serving entrepreneurs, corporate owners and various types of investors across a broad range of industries, throughout the U.S. and worldwide. FOCUS bankers are seasoned operating and financial executives with extensive transaction experience. Securities transactions conducted by FOCUS Securities LLC, an affiliated company, registered Broker Dealer member FINRA/SIPC. For more information on FOCUS, visit www.focusbankers.com.