Middle Market Investment Banking Firm FOCUS LLC Represents NAVIS in the Purchase of LMG Data Mining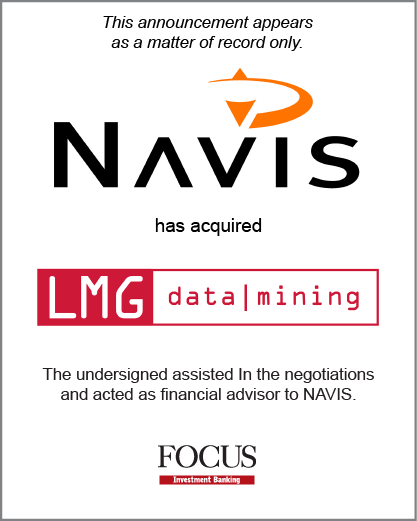 Bend, OR (January 11, 2013) – FOCUS LLC, a national middle market investment banking firm providing merger, acquisition, divestiture and corporate finance services, announced today that NAVIS has acquired LMG Data Mining. FOCUS represented NAVIS in the transaction.
NAVIS, a Bend, Oregon company, is the leader in reservation sales systems for the North American lodging industry. LMG Data Mining, in Tempe, Arizona, pioneered data mining in the hospitality market. This acquisition will allow the companies to combine their data gathering and reporting strengths to develop a more powerful, web-based business intelligence system that builds guest profiles and produces actionable marketing data to drive increased reservations and revenues.
According to Kyle Buehner, CEO of NAVIS, "The expertise we received from FOCUS and John Bradshaw throughout the entire process of our acquisition was invaluable. Thanks to their guidance, we completed the acquisition quickly and without incident. I wouldn't hesitate to call on FOCUS again."
FOCUS Managing Partner, John Bradshaw, noted, "This transaction broadens the client base and opens significant strategic opportunities for NAVIS. We are happy to have aided such a beneficial transaction."
*These testimonials may not be representative of the experience of all clients; testimonials are not a guarantee of future performance or success.
About FOCUS LLC
FOCUS LLC provides a range of middle market investment banking services with an emphasis on mergers, acquisitions, divestitures and corporate finance. FOCUS is a national firm serving clients from offices in major cities across the United States. FOCUS specializes in business units with transactions or revenues in the $5-300 million range, serving entrepreneurs, corporate owners and various types of investors across a broad range of industries, throughout the U.S. and worldwide. FOCUS bankers are seasoned operating and financial executives with extensive transaction experience. Securities transactions conducted by FOCUS Securities LLC, an affiliated company, registered Broker Dealer member FINRA/SIPC. For more information on FOCUS, visit www.focusbankers.com.