Middle Market Investment Banking Firm FOCUS LLC Represents InteliTarget in its Sale to Invenio Marketing Solutions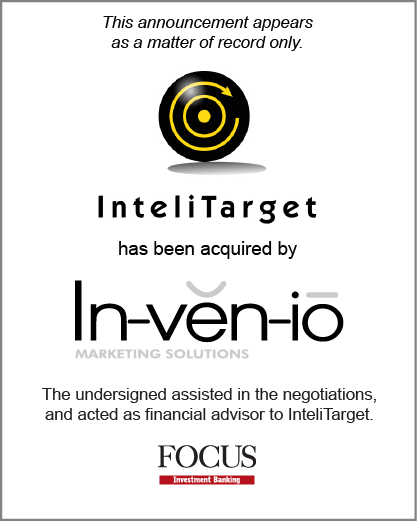 Washington, DC (December 1, 2010) – FOCUS LLC, a national middle market investment banking firm providing merger, acquisition, divestiture and corporate finance services, announced today that InteliTarget has been acquired by Invenio Marketing Solutions. FOCUS represented InteliTarget in this transaction.
InteliTarget has served as an outsourced, inside sales partner to businesses ranging from start-ups to Fortune 500 companies since 1996. Their extensive list of B2B lead generation and outsourced inside sales clients spans commercial markets, the federal government, state and local government and education.
Invenio Marketing Solutions is a full-service marketing company focused on the lead development and revenue growth of business-to-business and nonprofit organizations. It was formed through the merger of Winchester, Virginia based InteliTarget, Los Angeles, California based Left Coast Marketing and Austin, Texas based The Lead Dogs. The transaction combines these three organizations into a single company with the client base, resources and expertise to uniquely meet the rapidly evolving lead development services needs of organizations in North America.
"This merger makes tremendous sense for our clients, as well as our employees. It marks an unparalleled opportunity for three successful, mission-driven organizations to unify with a singular focus on becoming the premier B2B lead generation, lead development and outsourced inside sales partner to organizations wanting to find, develop and close new businesses or grow sales with current customers," said Joseph Smith, InteliTarget president and chief executive officer.
According to John Bradshaw, FOCUS partner, "InteliTarget has been a significant competitor in the lead generation and development market, and its merger with The Lead Dogs and Left Coast Marketing establishes the new entity, Invenio Marketing Services, as one of the best-of-breed companies in the call center industry."
About FOCUS LLC
FOCUS LLC provides a range of middle market investment banking services with an emphasis on mergers, acquisitions, divestitures and corporate finance. FOCUS is a national firm serving clients from offices in major cities across the United States. FOCUS specializes in business units with transactions or revenues in the $5-300 million range, serving entrepreneurs, corporate owners and various types of investors across a broad range of industries, throughout the U.S. and worldwide. FOCUS bankers are seasoned operating and financial executives with extensive transaction experience. Securities transactions conducted by FOCUS Securities LLC, an affiliated company, registered Broker/Dealer and Member FINRA/SIPC. For more information on FOCUS, visit www.focusbankers.com.