FOCUS Investment Banking Represents Arrow Child & Family Ministries in the Sale of its Home and Community Based Service Business to Mosaic, Inc.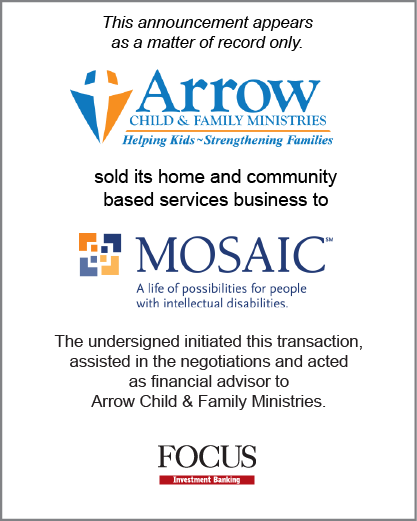 Atlanta, GA (October 16, 2014) – FOCUS Investment Banking, a national middle market investment banking firm providing merger, acquisition, divestiture and corporate finance services, announced today that Mosaic, Inc. has acquired the Home and Community Based Service business of Arrow Child & Family Ministries.  FOCUS represented Arrow Child & Family Ministries in the transaction.
Arrow Child & Family Ministries, located in Spring, Texas, is an international Christian provider of child welfare and education services for abused and neglected children and families in crisis.  Since 1992, through the engagement of both government and the local church, Arrow has been providing an array of services that impact over 4,000 children, teens and families each year, including foster care, adoption, child sex trafficking rehabilitation and specialized education.
Mosaic, Inc., located in Omaha, Nebraska, is a faith-based provider of services to more than 3,800 individuals with intellectual and developmental disabilities. Through its 38 locations in 10 states, Mosaic partners with people with intellectual and developmental disabilities to create a meaningful life in a caring community, giving a voice to their needs.
Scott Lundy, president and CEO of Arrow Child & Family Ministries, commented "This past year, as part of our strategic planning process, we realized that as a company we did not have the human capital to fully develop our home and community based services.  As a non-profit faith based organization we engaged FOCUS to identify an organization with a similar mission, values and dedication to service excellence to assume our services to our clients. Mosaic, as an organization and through its leadership and staff, shares our mission and values and we are pleased that they will continue our tradition of client dedication."
Michael McGregor, managing director at FOCUS, commented, "Medicaid and state budgets for human services are being scrutinized and slashed nationwide so it is critical that  organizations adapt and focus on what they do best. Non-profit companies like Arrow and Mosaic are smart to be constantly reviewing the competitive and legislative landscape and adjusting their strategies accordingly." Jonathan Wilfong, regional managing partner of FOCUS, added, "This transaction makes both organizations stronger so they can better serve the neediest members of our communities."
*These testimonials may not be representative of the experience of all clients; testimonials are not a guarantee of future performance or success.
ABOUT FOCUS LLC
FOCUS provides a range of middle market investment banking services with an emphasis on mergers, acquisitions, divestitures and corporate finance.  FOCUS is a national firm serving clients from offices in major cities across the United States.  FOCUS specializes in business units with transactions or revenues in the $5-300 million range, serving entrepreneurs, corporate owners and various types of investors across a broad range of industries, throughout the U.S. and worldwide.  FOCUS bankers are seasoned operating and financial executives with extensive transaction experience.  Securities transactions conducted by FOCUS Securities LLC, an affiliated company, registered Broker Dealer member FINRA/SIPC.  For more information on FOCUS, visit www.focusbankers.com.