FOCUS Investment Banking Represents ARCH Global Precision LLC in its Acquisition of Rid-Lom Precision Manufacturing Corporation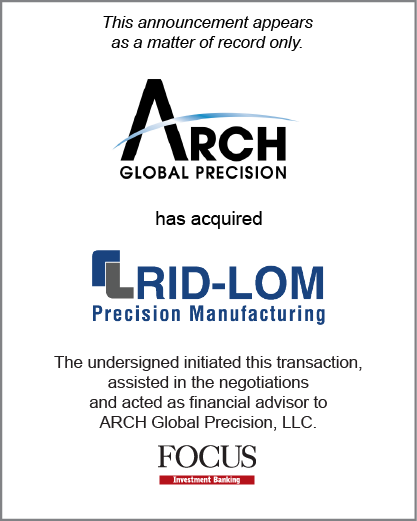 Washington, DC (November 8, 2016) – FOCUS Investment Banking ("FOCUS"), a national middle market investment banking firm providing merger, acquisition, divestiture and corporate finance services announced today that ARCH Global Precision, LLC ("ARCH") has acquired Rid-Lom Precision Manufacturing Corporation.  FOCUS represented ARCH in the transaction.
ARCH, a Strength Capital Partners and Main Post Partners platform company, with more than 775 employees across its 14 business units in every major region of the country, focuses on precision machined components and precision cutting tools serving a variety of critical industries including aerospace and defense, medical, energy, automotive and other industrial markets. Since its formation, ARCH has grown rapidly both organically and through targeted acquisitions of leading entrepreneurial precision machining and cutting tools manufacturers.
Rid-Lom was founded more than 30 years ago by journeyman tool and die makers to provide high precision machining services and capabilities in horizontal and vertical CNC milling and wire EDM.  It serves a variety of industries, including hydraulics and packaging.
"Rid-Lom provides a perfect complement to our existing operations in Rochester and we are excited to bring the talented Rid-Lom team into the ARCH family", said Jack Serda, ARCH Vice President of Corporate Development. "We worked previously with FOCUS when they represented Smiths Machine, which we acquired in 2015. They were a natural to assist us on the buy-side as we work to further extend our base of operations through acquiring great entrepreneurial companies."
John Rider, CEO and sole owner of Rid-Lom added, "While I've had a number of approaches over the years from potential acquirers, I was always concerned about the impact of a sale on our employees and customers. FOCUS helped me see that ARCH presented an opportunity to not only preserve the team, but to provide them with opportunities for career growth. With its national resources and diverse capabilities, ARCH will also enable us to offer our customers new capabilities not previously available."
According to FOCUS Partner, John Slater, "I've spent my entire career championing entrepreneurs. Working with a great company like ARCH gives me the opportunity to meet talented business owners like John Rider and share with them the benefits of becoming part of a winning team that is helping to lead the resurgence of manufacturing in America."
*These testimonials may not be representative of the experience of all clients; testimonials are not a guarantee of future performance or success.
About FOCUS Investment Banking LLC
With more than three decades of experience, FOCUS Investment Banking is a trusted name in M&A advisory services worldwide.  FOCUS works to understand each client's strategic and financial objectives, craft the best plan to achieve these goals, and deliver success.  Whether helping to sell, buy, or raise capital, FOCUS strives to maximize the value of every transaction to the benefit of its clients. Securities transactions conducted by FOCUS Securities LLC, an affiliated company, registered Broker Dealer member FINRA/SIPC. For more information on FOCUS, visit www.focusbankers.com.