Middle Market Investment Banking Firm FOCUS LLC Secures Financing for Nextek, Inc. FOCUS Closes 10 Deals in 2009, Notes Trend in Alternative Financings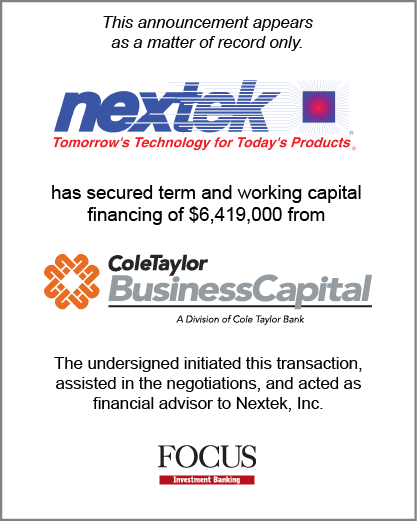 Washington, D.C. (November 13, 2009) - FOCUS LLC, a national middle market investment banking firm providing merger, acquisition, divestiture and corporate finance services, announces that Huntsville, Ala.-based Nextek, Inc. has entered into a $6,419,000 senior term and working capital loan facility to replace its previous banking and subordinated debt arrangements. Representing Nextek, FOCUS initiated the transaction, acted as financial advisor and assisted in the negotiations. Cole Taylor Bank was the lender.
"The electronic manufacturing services industry was significantly impacted in the past year, but FOCUS helped us present our business and financial results to highlight our strong track record even in this difficult recessionary environment." said Jim Trummer, co-founder, president and CEO of Nextek. "In today's extremely difficult lending environment, FOCUS' assistance was critical in closing this loan."
With more than 120 employees, Nextek is a leading manufacturing specialty company offering advanced design, analytical and manufacturing services to Original Equipment Manufacturers (OEMs) in the electronics industry. Since 1995, Nextek's focus has been on high-function electronic assemblies that utilize advanced interconnect technologies. Nextek provides the technology services to bring these products rapidly from design to production.
"This refinancing was a win-win for Nextek," said Manan K. Shah, partner and government, aerospace and defense team leader at FOCUS. "The banking services provided by Cole Taylor Bank will help Nextek to continue to grow, and will save a significant amount of operating expense by taking advantage of the favorable financing terms as compared with its prior financing arrangements."
"In the current environment, many companies like Nextek are facing the need for financial alternatives, arising from tightened lending standards and reduced credit availability in the banking industry and from the ongoing needs of businesses to fund growth or business transitions such as family buyouts," said John Slater, partner and financial alternatives team leader at FOCUS. "In this difficult market, success in arranging this transaction hinged on the ability of Nextek to demonstrate to the lender that its actual business outlook provides a basis for future growth and continued positive performance."
This deal comes on the heels of FOCUS' recent representation of Pepperweed Advisors in its acquisition by Cognizant. In 2009, FOCUS has closed 10 deals, including both merger and acquisition and corporate financing transactions.
For more information about FOCUS and its financial alternatives services, visit www.focusbankers.com.
About FOCUS LLC
FOCUS LLC provides a range of middle market investment banking services with an emphasis on mergers, acquisitions, divestitures and corporate finance. FOCUS is headquartered in Washington, D.C. with regional offices in Atlanta, Chicago, Los Angeles and San Francisco. FOCUS specializes in business units with transactions or revenues in the $5-300 million range, serving entrepreneurs, corporate owners and various types of investors across a broad range of industries, throughout the U.S. and worldwide. FOCUS bankers are seasoned operating and financial executives with extensive transaction experience. Securities transactions conducted by Wm. H. Murphy & Co., Inc. registered Broker Dealer member FINRA/SIPC. For more information on FOCUS, visit www.focusbankers.com.