FOCUS LLC Represents VERTEX Solutions in Acquisition by Adayana, Inc.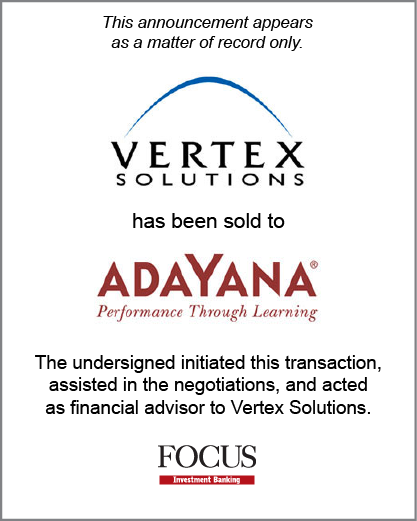 Washington, DC (March 31, 2008) – Today, FOCUS LLC, a national middle market investment banking firm providing merger, acquisition, divestiture and corporate finance services, announced the representation of VERTEX Solutions, Inc. in its recent acquisition by Minneapolis-based Adayana, Inc. VERTEX has become a wholly-owned subsidiary of Adayana.
Established in 1996, VERTEX develops innovative learning systems and interactive technology for organizational learning and performance enhancement. Headquartered in Falls Church, Va., VERTEX has grown to more than 100 employees, and has served more than 50 U.S. government agencies, including the Department of Defense and Department of Homeland Security.
"We had spent more than a decade building our business and knew how to run it at a level of performance well above others in our industry, but we had no experience selling a company," said Ray Daly, president and co-founder of VERTEX. "For that depth of expertise, we partnered with FOCUS because of their seasoned team, systematic approach and track record of middle market M&A successes."
Daly and his partner, Ed Kovac, both baby boomers seeking to pursue other personal and business interests, started working with FOCUS in mid-2007.
"The owners' main priority was to ensure their employees would be well taken care of by the acquiring company," said Brad Fleisher, managing director of FOCUS and one of four investment bankers in the FOCUS Education and Human Capital practice group. "Because VERTEX and Adayana had been successful business partners in the past, the owners were comfortable with them buying their business. They felt the company and its employees would grow to the next level as part of Adayana."
With the VERTEX acquisition, Adayana will have more than 250 employees in 12 U.S. locations and India. An Inc. 500 company, Adayana now targets three vertical markets: the Federal government sector through VERTEX; agriculture, food, life sciences and non-profit sectors through recently acquired Indianapolis-based ABG, Inc.; and the automotive industry through Adayana Automotive.
"VERTEX achieved a healthy purchase price because the company, like many middle market organizations, was built on solid business fundamentals, had high-levels of customer satisfaction and a dedicated workforce," said Doug Rodgers, chief executive officer of FOCUS. "This acquisition is a win-win for both companies because Adayana gains a highly trained, dedicated workforce, greater expertise and significant number of additional customers within the federal government sector. In addition, the founders of VERTEX are rewarded for their years of effort in building a solid business."
Fleisher and Rodgers point to this transaction as one example of the growing trend of baby boomers looking to sell businesses they have built over the past decades. With baby boomers seeking retirement and a new trend not to pass their businesses onto other family members, FOCUS predicts that M&A will increase significantly over the next five years.
For more information about this trend and others that FOCUS predicts will shape the middle market M&A landscape, download a free copy of the "2008 Middle Market M&A Forecast" at www.focusbankers.com.
About FOCUS LLC
FOCUS LLC provides a range of middle market investment banking services with an emphasis on mergers, acquisitions, divestitures and corporate finance. FOCUS is headquartered in Washington, D.C. with regional offices in Atlanta, Chicago and San Francisco. FOCUS specializes in business units with transactions or revenues in the $5-300 million range, serving entrepreneurs, corporate owners and various types of investors across a broad range of industries, throughout the U.S. and worldwide. FOCUS bankers are seasoned operating and financial executives with extensive transaction experience. Securities transactions conducted by Wm. H. Murphy & Co., Inc. registered Broker Dealer member FINRA/SIPC. For more information on FOCUS, visit www.focusbankers.com.