FOCUS LLC Represents U.K.-Based Avialec International's Sale to KAPCO|VALTEC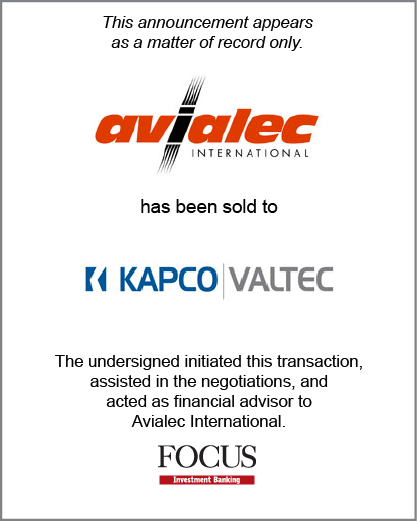 Washington, DC (May 5, 2008) – FOCUS LLC, a national middle market investment banking firm providing merger, acquisition, divestiture and corporate finance services, announced today that Avialec International has been acquired by KAPCO|VALTEC, an aerospace supply chain management company, based in Brea, Calif. FOCUS represented Avialec International in this international transaction.
Founded in 1982, Avialec, based in Petersfield, England, has established itself as one of the leading U.K. specialist distributors of electrical connectors, relays, wire and associated devices to the aerospace industry. Avialec has maintained steady growth over the last eight years.
"I had decided it was time to put Avialec under the wing of a larger progressive organization with financial firepower to realize the many opportunities before us," said Barrie Prescott, CEO of Avialec. "Given their cross border transaction experience and their broad U.S. coverage, FOCUS was the perfect firm to help us realize our goals. The transaction was managed in a timely manner with little disruption to our business. I could not have done it without them."
"From the beginning, Barrie made it clear that his expectation was high and his timetable short. As a principal, he wanted action and committed himself wholeheartedly to the process. We were pleased to be able to complete the transaction in just over four months," said Manan Shah, a FOCUS Partner.
For more than 35 years, KAPCO|VALTEC has been a leader in aerospace supply chain management. Similar to Avialec, KAPCO|VALTEC serves the industry's marquee accounts in the U.S. and the U.K. Gerald Turner, a FOCUS Managing Director, said of Andrew Todhunter, KAPCO|VALTEC's President and COO, "Andrew was a pleasure to work with; he was a buyer who kept his eyes firmly on the opportunity and never let the process delay due to minor issues."
As is the case with the growing number of international M&A transactions, this deal is a win-win for both companies. For Avialec, it provides the financial support necessary for faster growth, and for KAPCO|VALTEC, it provides access to major accounts in the U.K. as well as enhancing the company's existing international profile, which includes presence in The Netherlands and Singapore.
About FOCUS LLC
FOCUS LLC provides a range of middle market investment banking services with an emphasis on mergers, acquisitions, divestitures and corporate finance. FOCUS is headquartered in Washington, D.C. with regional offices in Atlanta, Chicago, Los Angeles and San Francisco. FOCUS specializes in business units with transactions or revenues in the $5-300 million range, serving entrepreneurs, corporate owners and various types of investors across a broad range of industries, throughout the U.S. and worldwide. FOCUS bankers are seasoned operating and financial executives with extensive transaction experience. Securities transactions conducted by Wm. H. Murphy & Co., Inc. registered Broker Dealer member FINRA/SIPC. For more information on FOCUS, visit www.focusbankers.com.