Middle Market Investment Banking Firm FOCUS LLC Represents TouchStar Software Corporation in Acquisition of Assets by Noble Systems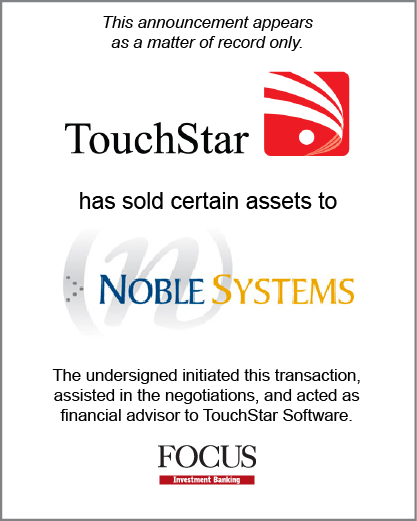 Washington, DC and Atlanta, GA (November 12, 2009) – FOCUS LLC, a national middle market investment banking firm providing merger, acquisition, divestiture and corporate finance services, announced today that assets from TouchStar Software Corporation have been acquired by Noble Systems Corporation. FOCUS represented TouchStar in this transaction.
According to John Bradshaw, partner at FOCUS, "TouchStar has built a brand that is well known within the teleservice industry and this acquisition allows Noble Systems to further consolidate these markets. FOCUS is glad to have been a part of such a beneficial transaction."
Noble Systems Corporation, based in Atlanta, Georgia, is a global leader in contact center technology solutions, providing innovative products since 1989. Noble solutions include advanced ACD and predictive dialing, unified contact processing, integrated IVR, recording, messaging, monitoring systems, scripting, and real-time reporting and management tools.
TouchStar develops and supports world class call center software with on-site and hosted SaaS deployment options. TouchStar serves over 2,500 global businesses and call centers from its headquarters in Denver and regional offices around the world.
Noble has acquired TouchStar assets, including the TouchStar brand and all intellectual property. The acquisition further improves Noble's small and medium business offering to complement its large enterprise offer and provides TouchStar users a way forward with the resources of an experienced contact center technology partner.
This deal comes on the heels of FOCUS' recent representation of Nextek, Inc. which entered into a $6,419,000 million senior term and working capital loan facility to replace its previous banking and subordinated debt arrangements.
About FOCUS LLC
FOCUS LLC provides a range of middle market investment banking services with an emphasis on mergers, acquisitions, divestitures and corporate finance. FOCUS is headquartered in Washington, D.C. with regional offices in Atlanta, Chicago, Los Angeles and San Francisco. FOCUS specializes in business units with transactions or revenues in the $5-300 million range, serving entrepreneurs, corporate owners and various types of investors across a broad range of industries, throughout the U.S. and worldwide. FOCUS bankers are seasoned operating and financial executives with extensive transaction experience. Securities transactions conducted by Wm. H. Murphy & Co., Inc. registered Broker Dealer member FINRA/SIPC. For more information on FOCUS, visit www.focusbankers.com.