Middle Market Investment Banking Firm FOCUS LLC Represents India-Based Glodyne Technoserve in its Acquisition of DecisionOne. Acquisition Creates Leader in U.S. Global Technology IMS Marketplace.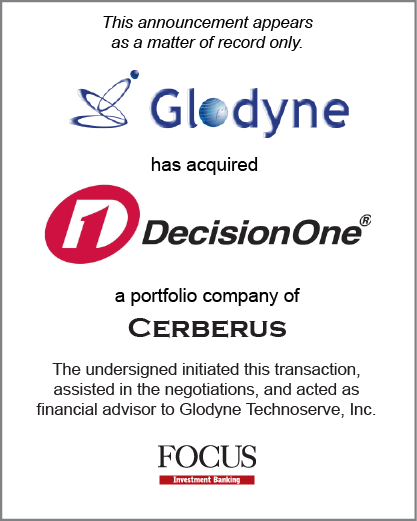 Washington DC (July 15, 2010) – FOCUS LLC, a national middle market investment banking firm providing merger, acquisition, divestiture and corporate finance services, announced today that Glodyne Technoserve Limited (NSE: GLODYNE, BSE: 532672) has acquired U.S based DecisionOne Corporation, a large technology IMS Services company. FOCUS represented Glodyne Technoserve in the $104 million transaction.
Glodyne is a leading IT services company, headquartered in Mumbai, India. Glodyne offers technology led businesses solutions in technology infrastructure management services (technology IMS) and application software services. The company works in partnership with businesses to help reduce overall IT operations costs, improve service levels and leverage information technology.
According to Annand Sarnaaik, Chairman and Managing Director of Glodyne stated, "the business synergies of our acquisition of DecisionOne will significantly enhance Glodyne's position in the $524 billion global technology IMS marketplace and strengthen its global reach with a robust onsite remote IMS global delivery model. Glodyne expects to strengthen its position in the North American market."
DecisionOne, which was controlled by Cerberus Capital Management, has more than 2000 employees and is headquartered in Philadelphia, PA. It is one of the largest technology IMS companies in North America with extensive capabilities in providing infrastructure management services in the U.S. and Canada. Among its key clients are marquee Fortune 500 clients.
According to Haneef Sheikh, Vice President of North American Operations for Glodyne, "This transaction is a significant milestone for us and we were delighted to have a partner like FOCUS and in particular Manan Shah, who assisted us through this transaction."
Manan Shah, Partner and Co-Leader of the Software and IT Services Group of FOCUS LLC stated, "Glodyne's acquisition of DecisionOne is an indication of the consolidation wave in the IT infrastructure industry and the increasing interest from India based and other overseas players in the US market for acquisitions."
About FOCUS LLC
FOCUS LLC provides a range of middle market investment banking services with an emphasis on mergers, acquisitions, divestitures and corporate finance. FOCUS is a national firm serving clients from offices in major cities across the United States. FOCUS specializes in business units with transactions or revenues in the $5-300 million range, serving entrepreneurs, corporate owners and various types of investors across a broad range of industries, throughout the U.S. and worldwide. FOCUS bankers are seasoned operating and financial executives with extensive transaction experience. Securities transactions conducted by FOCUS Securities LLC, an affiliated company, registered Broker Dealer member FINRA/SIPC. For more information on FOCUS, visit www.focusbankers.com.