FOCUS LLC Represents GeoCentral's Sale to C.M. Paula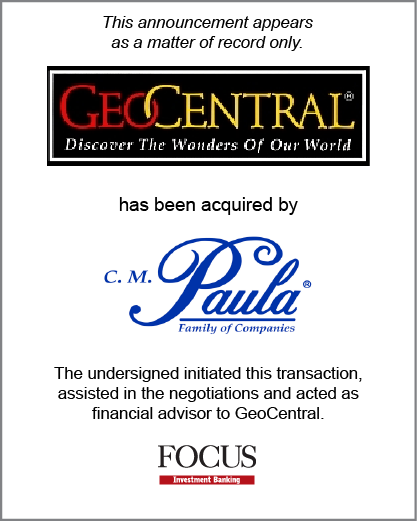 San Francisco and Washington, DC (June 12, 2008) – FOCUS LLC, a national middle market investment banking firm providing merger, acquisition, divestiture and corporate finance services, announced today that GeoCentral of Napa, Calif. has been acquired by C.M. Paula, a privately-held giftware company based in Mason, Ohio. FOCUS represented GeoCentral in this transaction.
Founded in 1978, GeoCentral is a distributor and wholesaler of a wide array of gift items, including nature-related products, educational kits, impulse items and jewelry. GeoCentral has maintained steady and profitable growth over many years.
"After 29 years of building a successful business, Co-founder Ken Niehaus and I were ready to retire from the business and pursue personal interests. We decided it was time to put GeoCentral under the wing of a larger organization with the financial resources required to realize the opportunities of our strong brand and reputation in the industry," said Elizabeth Bush, president of GeoCentral. "Given their proven M&A expertise, FOCUS was the ideal firm to help us find the best acquirer and negotiate excellent terms that met our expectations."
C.M. Paula was founded in 1958 and now operates several primary consumer product businesses – social expression gifts, pop-up greeting cards, and sports licensing gift products. Greg Ionna, CEO of CM Paula, stated, "With its strong brand and unique products, GeoCentral represents an excellent diversification opportunity for us. We expect to aggressively grow both their distribution and product selections."
"From the beginning, the owners of GeoCentral made it clear that they wanted to find a buyer that embraced their unique corporate culture," said David Roberts, senior advisor at FOCUS. "Despite a challenging downturn in the market, we were pleased to be able to achieve excellent terms that satisfied both the sellers and the buyer." Laura Russell-Jones, a principal with FOCUS added that, "With the growing number of M&A transactions within the gift industry, this transaction demonstrated the opportunities for consolidation and diversification that is driving many buyers and sellers in this space."
About FOCUS LLC
FOCUS LLC provides a range of middle market investment banking services with an emphasis on mergers, acquisitions, divestitures and corporate finance. FOCUS is headquartered in Washington, D.C. with regional offices in Atlanta, Chicago, Los Angeles and San Francisco. Throughout the U.S. and worldwide, FOCUS specializes in middle market transactions, serving entrepreneurs, corporate owners and various types of investors across a broad range of industries. FOCUS bankers are seasoned operating and financial executives with extensive transaction experience. Securities transactions are conducted by Wm. H. Murphy & Co., Inc. registered Broker Dealer member FINRA/SIPC. For more information on FOCUS, visit www.focusbankers.com.