Middle Market Investment Banking Firm FOCUS LLC Represents FI Holdings in Acquisition of A-TEK, Inc., a Scientific and IT Solutions and Consulting Firm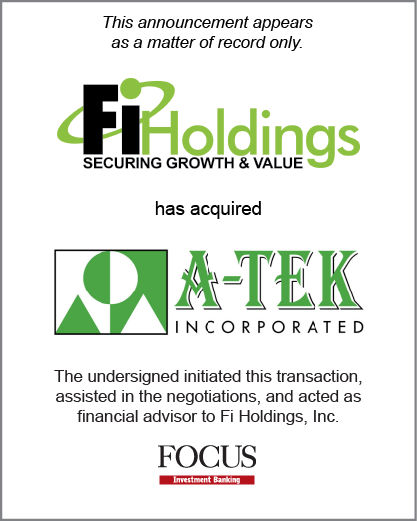 Washington DC (July 23, 2010) – FOCUS LLC, a national middle market investment banking firm providing merger, acquisition, divestiture and corporate finance services, announced today that FI Holdings, along with a private equity partner, has acquired A-TEK, Inc. in an equity based transaction. FOCUS represented FI Holdings in the transaction.
Kathryn and R. Gregory Freeland (owners of FI Holdings) are the former Founder/Chief Executive Officer and President of RGII Technologies, Inc. which was sold in 2003 to Computer Horizons Corporation. RGII Technologies provided information technology solutions to nine presidential cabinet agencies within the federal government. After the sale, Kathryn Freeland completed a three year employment agreement as CEO.
According to Kathryn Freeland, Chief Executive Officer of newly acquired A-TEK, "A-TEK represents the type of company we have been seeking for nearly two years as our entrée back into the federal contracting industry. With A-TEK as our platform company, our goal is to couple A-TEK's success with our prior success at RGII and continue to provide quality services, solutions and value to our myriad of customers throughout the federal government. We are very excited about the opportunities that lie ahead for A-TEK and all of our employees across the U.S."
Founded in 1996 and headquartered in Leesburg, Virginia, A-TEK, Inc. provides scientific and information technology services and solutions to federal government agencies. A-TEK has more than 180 employees in regional and customer site locations in 29 cities across the United States. The company supports contracts with numerous federal agencies, including the U.S. Department of Homeland Security, Department of Health and Human Services, National Institutes of Health, Department of Agriculture and the Department of Justice.
Eric Oganesoff, Managing Director at FOCUS LLC, who led the search and transaction, stated, "We are proud to have represented the Freelands in their acquisition of a fine company like A-TEK. Marshall Graham, another Managing Director at FOCUS, and I worked as a team, and initially profiled over 200 companies for the search, interviewing 98 CEOs of candidate companies and qualified 15 finalists. A-TEK was the clear winner and represents the platform company with which Greg and Kathy Freeland can build a major federal contracting enterprise." The terms of the transaction were not disclosed.
About FOCUS LLC
FOCUS LLC provides a range of middle market investment banking services with an emphasis on mergers, acquisitions, divestitures and corporate finance. FOCUS is a national firm serving clients from offices in major cities across the United States. FOCUS specializes in business units with transactions or revenues in the $5-300 million range, serving entrepreneurs, corporate owners and various types of investors across a broad range of industries, throughout the U.S. and worldwide. FOCUS bankers are seasoned operating and financial executives with extensive transaction experience. Securities transactions conducted by FOCUS Securities LLC, an affiliated company, registered Broker Dealer member FINRA/SIPC. For more information on FOCUS, visit www.focusbankers.com.