FOCUS Investment Banking Secures Navint Partners, LLC a Growth Capital Investment From Boathouse Capital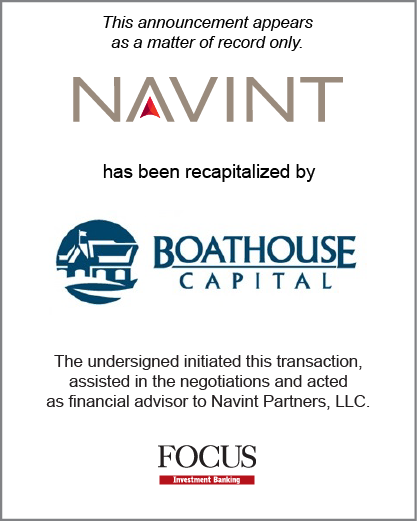 Washington, DC (May 5, 2015) – FOCUS Investment Banking LLC, a national middle market investment banking firm providing merger, acquisition, divestiture and corporate finance services, announced today that Navint Partners, LLC (Navint) has secured growth capital from Boathouse Capital. FOCUS represented Navint in this transaction.
Navint is a full-service business consulting and enterprise IT transformation firm specializing in managing large scale business and organizational change for clients with industry expertise in financial services, professional services, and media and entertainment in North America and Europe. The firm's founding partners have over a combined 100 years of management consulting experience serving both middle market companies as well as Fortune 500 and Global 500 companies.
Jim Martindale, Navint's CEO, said, "We are very pleased to partner with Boathouse Capital.  The Boathouse team has proven to be thoughtful partners and I'm excited about the opportunity to team up with them as we focus on the next phase of the Company's development. Their experience working with middle market companies to source and integrate add-on acquisitions will be an asset as we continue to build our business and achieve our goals."
Chong Moua, Partner at Boathouse Capital, said, "We're eager to partner with Jim Martindale and his team to aggressively grow the Company and build upon Navint's success and leadership working with large organizations needing expert alignment of people, processes and technology. We look forward to working with the Company to grow the business geographically, through a continued expansion of services, and through strategic add-on acquisitions. Navint is well-positioned as a platform to expand into new verticals and is poised for continued growth."
Manan Shah, FOCUS Managing Partner and Co-Leader of the Information Technology Team, commented, "Navint has been experiencing a strong growth organically and they wanted to make sure they had a financial partner to capitalize on growth opportunities ahead of them. In Boathouse, we have found a financial partner that understands the IT consulting industry dynamics very well."
George Shea, FOCUS Partner and Information Technology Team Leader, added, "We've been pleased to represent a first-rate management consulting firm that is poised for explosive growth, and believe Boathouse will be an excellent partner to help the team achieve its objectives."
*These testimonials may not be representative of the experience of all clients; testimonials are not a guarantee of future performance or success.
About FOCUS LLC
FOCUS LLC provides a range of middle market investment banking services with an emphasis on mergers, acquisitions, divestitures and corporate finance.  FOCUS, a national firm serving clients from offices in major cities across the U.S., specializes in business units with transactions or revenues in the $5-300 million range, serving entrepreneurs, corporate owners and various types of investors across a broad range of industries both domestically and worldwide. FOCUS bankers are seasoned operating and financial executives with extensive transaction experience.  Securities transactions conducted by FOCUS Securities LLC, an affiliated company, registered Broker Dealer member FINRA/SIPC.  For more information, visit www.focusbankers.com/technology.