FOCUS Investment Banking Represents Virtusa Corporation in the Purchase of Apparatus, Inc. and Completes Another Global Information Technology Transaction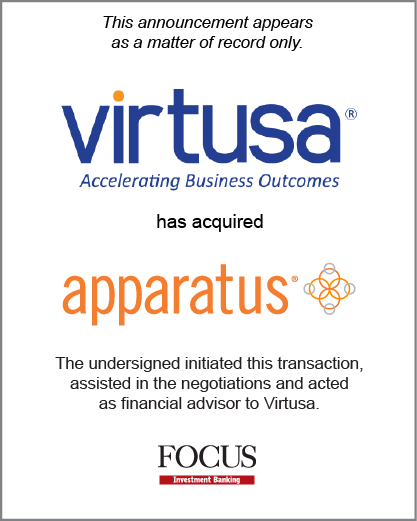 Washington, DC, (April 3, 2015) – FOCUS Investment Banking, a national middle market investment banking firm providing merger, acquisition, divestiture, and corporate finance services, announced today that Virtusa Corporation has acquired Apparatus, Inc. FOCUS represented Virtusa in the transaction. 
Founded in 1996 and headquartered in Massachusetts, Virtusa is a global IT services company that combines innovation, technology leadership, and industry solutions to transform the customer experience. Using an enhanced global delivery model, an innovative software platforming approach, and industry expertise, Virtusa serves Global 2000 companies and leading software vendors in many industries.
Apparatus, based in Indianapolis, Indiana, specializes in the design, build, and support of IT infrastructure such as mobile and cloud computing services for clients ranging from startups to Fortune 500 companies, delivering exceptional technology solutions.
According to Tom Holler, Virtusa's Executive VP and Chief Strategy Officer, "George Shea and the Focus team did a great job for us in finding top flight acquisition candidates in the Remote Infrastructure Managed Services space. The detailed acquisition specification that Focus prepared for us kept us all on track, and Apparatus clearly met our core requirements of an outstanding management team, solid Enterprise customers in our key verticals, and a strong proprietary platform that we can continue to build on."
George Shea, FOCUS Partner and Information Technology Team Leader, comments: "We've had the pleasure of putting two top-drawer organizations together in Virtusa and Apparatus, and working with them to close the transaction on schedule. Apparatus fits all the main criteria we've established with our client Virtusa for a successful acquisition."
Added Manan Shah, FOCUS Partner and IT Team Co-Leader: "Apparatus' proprietary managed IT solutions platform provides a great complement to Virtusa's strong portfolio of offerings. This transaction is reflective of significant consolidations going on within the Managed IT Services space. We are pleased to complete yet another transaction in this space involving two strong players from the industry."
*This testimonial may not be representative of the experience of all clients; testimonials are not a guarantee of future performance or success.
About FOCUS Investment Banking
FOCUS Investment Banking provides a range of middle market investment banking services with an emphasis on mergers, acquisitions, divestitures, and corporate finance. FOCUS is a national firm with a global footprint, serving clients from offices in major cities across the United States. FOCUS specializes in serving clients with  transaction size or revenues in the $5-300 million range, representing  entrepreneurs, corporate owners and various types of investors across a broad range of industries, throughout the U.S. and worldwide. FOCUS bankers are seasoned operating and financial executives with extensive transaction experience. Securities transactions conducted by FOCUS Securities LLC, an affiliated company, registered Broker Dealer member FINRA/SIPC. For more information on FOCUS and its Information Technology practice, visit www.focusbankers.com/technology.