FOCUS Investment Banking Represents VeenendaalCave, Inc. In Its Acquisition by NELSON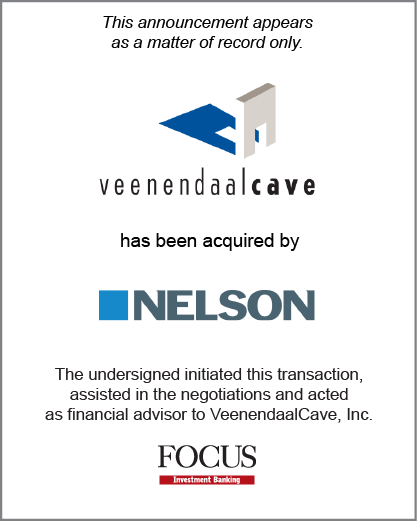 Atlanta, GA (July 7, 2015) – FOCUS Investment Banking LLC, a national middle market investment banking firm providing merger, acquisition, divestiture and corporate finance services, announced today that VeenendaalCave, Inc. (VCave) has been acquired by NELSON (Nelson Worldwide Inc).  FOCUS represented VCave in this transaction.
VCave is an Atlanta-based interior design firm providing a full range of interior planning and design services to corporate office, healthcare and industrial clients throughout the United States. Their thoughtful design solutions positively impact their client's culture, work processes and bottom line.
Ed Cave, VeenendaalCave's President, commented, "FOCUS conducted an extensive nationwide search seeking the right acquisition opportunity.  NELSON exceeded our hopes for a firm we can combine with and continue our tradition of excellent service."
Christine Veenendaal, Executive Vice President, added, "FOCUS' knowledge of the mergers and acquisition process was evident every step of the way.  Whether analyzing data, negotiating terms or pulling together knowledgeable consultants critical to closing the deal, FOCUS kept us informed and confident throughout the process!"
NELSON is a global architecture, design, engineering and consulting services firm headquartered in Philadelphia with personnel in 35 locations around the world.  Nelson works with more than 20 percent of the Fortune 100 companies.
"This move to advance our position in Atlanta has been a strategic objective for NELSON and VCave allows us to further expand our presence in one of the most important real estate markets in the country," said Ozzie Nelson Jr., Chairman and CEO of NELSON.
Jonathan Wilfong, FOCUS Managing Partner, commented, "This was an excellent transaction for all parties as it allows VCave to broaden its service capabilities and offerings to its clients while affording its employees opportunities within a global organization".
About FOCUS Investment Banking LLC
FOCUS Investment Banking, LLC provides a range of middle market investment banking services with an emphasis on mergers, acquisitions, divestitures and corporate finance.  FOCUS, a national firm serving clients from offices in major cities across the U.S., specializes in business units with transactions or revenues in the $5-300 million range, serving entrepreneurs, corporate owners and various types of investors across a broad range of industries both domestically and worldwide. FOCUS bankers are seasoned operating and financial executives with extensive transaction experience.  Securities transactions conducted by FOCUS Securities LLC, an affiliated company, registered Broker Dealer member FINRA/SIPC.  For more information, visit www.focusbankers.com/technology.