FOCUS Investment Banking Represents TÜV Rheinland in the Purchase of OpenSky Corporation And completes another international information technology transaction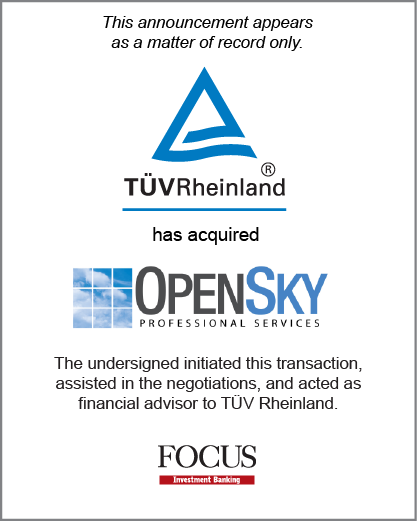 Washington, DC, (January 14, 2014) – FOCUS Investment Banking, a national middle market investment banking firm providing merger, acquisition, divestiture and corporate finance services, announced today that TÜV Rheinland has acquired OpenSky Corporation. FOCUS represented TÜV Rheinland in the transaction.
Founded in 1872, TUV Rheinland is a $2 billion global leader in independent testing, inspection and certification services, ensuring quality and safety for people, the environment and technology in nearly all aspects of life. The company, headquartered in Germany, maintains a presence in 500 locations spanning 65 countries and employees 17,200 people.
CEO of TÜV Rheinland, Dr. Manfred Bayerlein stated, "This is an important step into the world's biggest IT market. The merger with OpenSky will allow us to grow our services globally and support our international customers in the US. Our customers have a holistic demand for cybersecurity and we can now more easily fulfill this demand as one of the leading independent IT security providers."
OpenSky, based in Tolland, Connecticut, provides information technology expertise to help corporations reduce IT costs, protect information assets and accelerate the adoption of strategic technologies. It specializes in Transformational IT Infrastructure, Security and Compliance consulting.
Manan Shah, Partner at FOCUS and Information Technology Team Co-Leader, comments, "With more and more investments being made in cyber security, the synergy between TÜV Rheinland's testing and certification services and OpenSky's IT security services will offer greater expertise to their clients. We are pleased to have been able to facilitate such a beneficial transaction."
Added George Shea, Focus' IT Team Leader, "We introduced our client to a number of great candidates, but this transaction is a perfect fit. We are honored to have helped TÜV Rheinland meet its acquisition objectives."
*These testimonials may not be representative of the experience of all clients; testimonials are not a guarantee of future performance or success.
About FOCUS LLC
FOCUS Investment Banking provides a range of middle market investment banking services with an emphasis on mergers, acquisitions, divestitures and corporate finance. FOCUS is a national firm with a global footprint, serving clients from offices in major cities across the United States. FOCUS specializes in serving clients with transaction size or revenues in the $5-300 million range, representing entrepreneurs, corporate owners and various types of investors across a broad range of industries, throughout the U.S. and worldwide. FOCUS bankers are seasoned operating and financial executives with extensive transaction experience. Securities transactions conducted by FOCUS Securities LLC, an affiliated company, registered Broker Dealer member FINRA/SIPC. For more information on FOCUS and its Information Technology practice, visit www.focusbankers.com/technology.