FOCUS Investment Banking Represents Tempus Nova in Recapitalization
M&A Investment Banking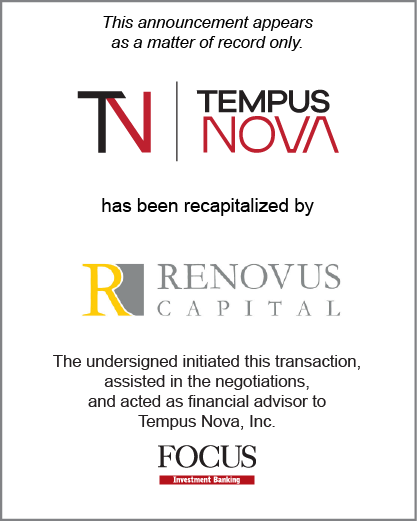 Atlanta, GA, (December 31, 2018) – FOCUS Investment Banking, a national middle market investment banking firm providing merger, acquisition, divestiture, and corporate finance services, announced today that Tempus Nova, Inc., has been recapitalized by Renovus Capital Partners. FOCUS represented Tempus Nova in this transaction. Headquartered in Denver, CO, Tempus Nova is a trusted technology services partner to over 200 public and private sector organizations located throughout the United States.
Tempus Nova, Inc. was founded in 2001 by Joseph Dellanno.  The Company is a Google Premier Partner and authorized Reseller of Google cloud technologies including G Suite and Google Cloud Platform.  They specialize in G Suite implementations, enterprise collaboration, custom application development, managed services, data visualization, business transformation and workforce productivity.
Since 2008, Tempus Nova has successfully migrated over two million email accounts and hundreds of enterprise applications to G Suite and Google Cloud Platform for Fortune 500 companies and public sector organizations such as the Federal General Services Administration (GSA); the National Oceanic & Atmospheric Administration (NOAA); and the states of Wyoming, Utah, Colorado, Iowa, and the Commonwealth of Virginia.
Tempus Nova is led by the CEO Didi Dellanno and the CTO Joe Dellanno, an experienced management team who bring over 50 years of technology and engineering excellence.  The Company is supported by a team of bright, experienced professionals with diverse IT backgrounds.  The entire team will continue to operate the company following the transaction.
Atif Gilani, the Renovus partner who led this investment, said, "Didi and Joe have built a business that offers great products and services, has a solid customer base and is led by a highly dedicated and entrepreneurial management team.  We are excited to become their partners and are committed to providing additional capital for both organic and acquisition driven growth."
Didi Dellanno, CEO of Tempus Nova commented, "FOCUS has been a great partner for Tempus Nova throughout this process and we greatly appreciated their guidance and their market knowledge in helping us identify the best partner for our firm. We are very excited to partner with Renovus given their experience in the IT services space. We look forward to continuing our journey with Renovus and accelerating our growth."
George Shea, FOCUS Partner and IT Team Co-Leader commented, "We have known Tempus Nova's management team for a long time and are impressed with their capabilities. The company is an emerging leader in a high-growth market for Enterprise companies going through a paradigm shift from older legacy systems to cloud solutions."
Manan Shah, FOCUS Partner and IT Team Co-Leader added, "This transaction is a good testimony to growing demand among investors for companies with cloud-based offerings. As a leading Google Premier partner, the partnership with Renovus will enhance Tempus Nova's push towards expanding their market presence as well as offerings."
*These testimonials may not be representative of the experience of all clients; testimonials are not a guarantee of future performance or success.
About FOCUS Investment Banking LLC
With more than three decades of experience, FOCUS Investment Banking is a trusted name in M&A advisory services worldwide. FOCUS works to understand each client's strategic and financial objectives, craft the best plan to achieve these goals, and deliver success. Whether helping to sell, buy, or raise capital, FOCUS strives to maximize the value of every transaction to the benefit of its clients. Securities transactions conducted by FOCUS Securities LLC, an affiliated company, registered Broker Dealer member FINRA/SIPC. For more information on FOCUS and its IT practice, please visit www.focusbankers.com/technology.