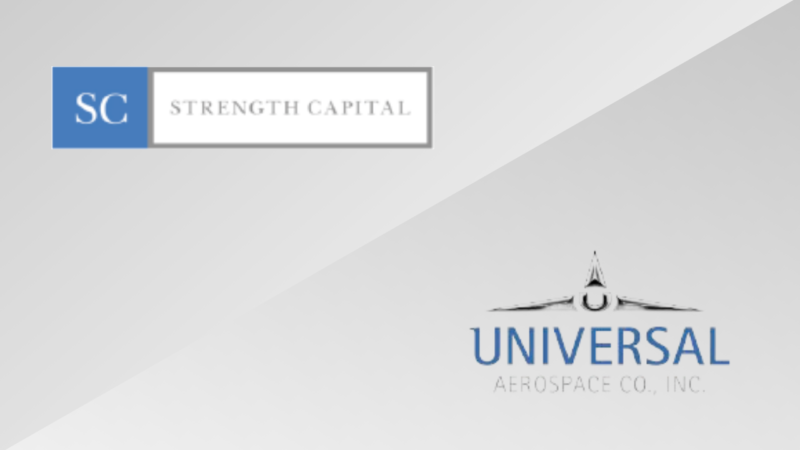 FOCUS Investment Banking Represents Strength Capital Partners, LLC in its Acquisition of Universal Aerospace Co., Inc.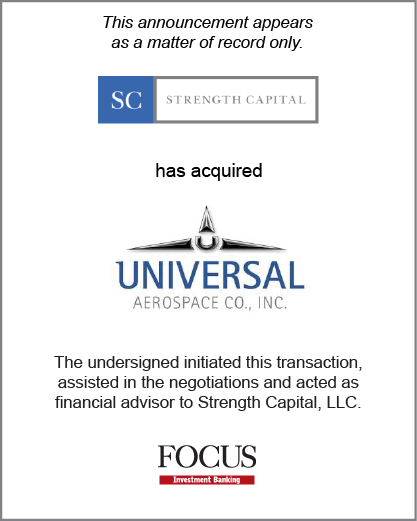 Washington, DC (January 23, 2017) – FOCUS Investment Banking ("FOCUS"), a national middle market investment banking firm providing merger, acquisition, divestiture and corporate finance services announced today that Strength Capital Partners, LLC ("Strength") has acquired Universal Aerospace Co., Inc. ("Universal").  FOCUS initiated the transaction and represented Strength in the negotiations.
Headquartered in Arlington, WA, Universal is a leading supply chain partner in the commercial aerospace sector.  Universal was founded in 1990 as a machine shop but has grown over the years to become a vertically integrated business with a broad set of capabilities.  The Company's production capabilities include sheet metal cutting, bending, stamping and forming, machining, welding, and assembly.  The Company also has its own captive metal finishing operations.
According to Strength Managing Partner Mark McCammon, "We are excited to add Universal to our portfolio as a new platform investment in the commercial aerospace sector.  Universal is well respected as a trusted supplier by leading manufacturers, particularly for its expertise in providing quality components for commercial aircraft interiors.  We are working with management to identify opportunities for add-on acquisitions to complement Universal's existing strengths."
FOCUS Partner, John Slater commented, "This is our third transaction with Strength and its portfolio companies.  From our experience, Strength is a great partner for talented management teams who see additional growth opportunities and are seeking a financial backer with significant experience and success in implementing strategically focused buy and build strategies."
For this transaction, FOCUS leveraged its national footprint and deep relationships in the aerospace and defense sector to support Strength's desire to expand its footprint in the Pacific Northwest.  FOCUS Managing Director, Craig Ladkin, operating from the firm's Bend, OR location, initiated discussions with Universal on behalf of Strength and assisted the parties in negotiating a deal structure that accommodated both the desires of existing shareholders for financial liquidity and the interests of key members of management in maintaining a significant ownership stake going forward.
Universal CEO, Jeff Pettit said, "The Universal management team is thankful to FOCUS for bringing us together with Strength.  We see a great opportunity for growth in commercial aerospace that can only be achieved with a strong partner.  Strength can not only supply the financial resources and experienced dealmakers we need to support our plans, but equally important they share our values with regard to running a great company."
*These testimonials may not be representative of the experience of all clients; testimonials are not a guarantee of future performance or success.
About FOCUS Investment Banking LLC
With more than three decades of experience, FOCUS Investment Banking is a trusted name in M&A advisory services worldwide. FOCUS works to understand each client's strategic and financial objectives, craft the best plan to achieve these goals, and deliver success. Whether helping to sell, buy, or raise capital, FOCUS strives to maximize the value of every transaction to the benefit of its clients. Securities transactions conducted by FOCUS Securities LLC, an affiliated company, registered Broker Dealer member FINRA/SIPC. For more information on FOCUS, visit www.focusbankers.com.