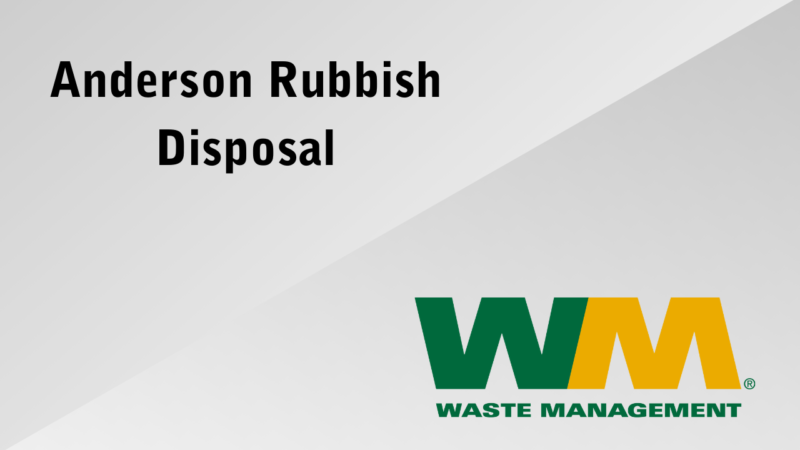 FOCUS Investment Banking Represents SEA/SUE Inc in its Sale to Waste Management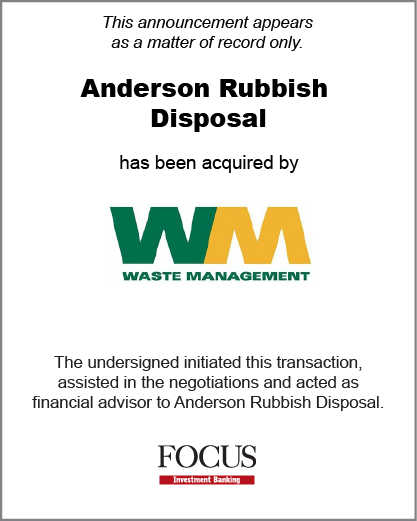 Washington, DC (March 16, 2018) -- FOCUS Investment Banking, a leading advisory and intermediary firm, is proud to announce that SEA/SUE Inc and its two businesses, Anderson Rubbish Disposal and Moorpark Rubbish Disposal, have been acquired by Waste Management, Inc.  SEA/SUE has been operating in the City of Simi Valley and Moorpark California for over 40 years.  In addition to the exclusive franchise rights for waste collection in those areas Waste Management gains SEA/SUE's residential, commercial, and industrial solid waste and recycling collection services, equipment, vehicles, and customer agreements.
FOCUS Managing Director Rick Thomas led the transaction representing SEA/SUE, "Charles Anderson and his team are pleased to have the opportunity to continue serving their community through the resources of the largest waste management company in North America.   Waste Management was an ideal choice."
"We have been part of the fabric of the Ventura County community for more than forty years," said Mike Smith, Director of Operations for Waste Management. "This acquisition will allow us to grow as the assets align perfectly with our existing operations furthering our environmental solutions throughout the region." Vice President of Business Development for Waste Management, Joe Cassin, complimented Rick Thomas for his role, "I have been working on acquiring this group of companies since 2004 and it was Rick's confidence and FOCUS' execution that gave Waste Management the assurance that the transaction would close."
About FOCUS Investment Banking LLC
FOCUS Investment Banking LLC is a leading middle market investment bank that provides advice and services to entrepreneurs, corporate owners, and investors across a broad range of industries both domestically and worldwide. With offices in major cities across the US, FOCUS specializes in providing mergers, acquisitions, divestitures, and corporate finance services to business units with transactions or revenues in the $5-300 million range.
For more information, visit www.focusbankers.com.  Contact [email protected] or [email protected]
About Waste Management
Waste Management, based in Houston, Texas, is the leading provider of comprehensive waste management services in North America. Through its subsidiaries, the company provides collection, transfer, recycling and resource recovery, and disposal services. It is also a leading developer, operator and owner of landfill gas-to-energy facilities in the United States. The company's customers include residential, commercial, industrial, and municipal customers throughout North America. To learn more information about Waste Management visit www.wm.com or www.thinkgreen.com.
For More Information Contact Waste Management
Eloisa Orozco, 619-778-6303
[email protected]