FOCUS Investment Banking Represents ParkSouth Ventures and Kian Capital Partners in its Investment in the Newly Formed, My IT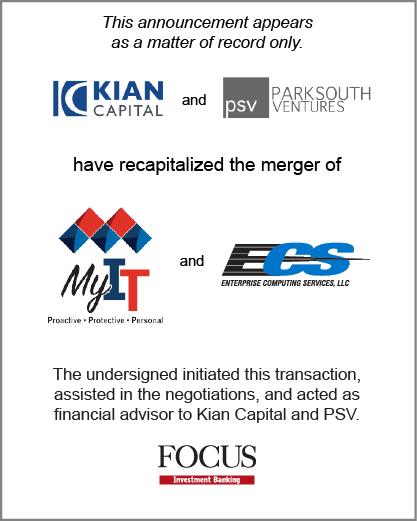 Washington, DC, (February 10, 2020) — FOCUS Investment Banking, a national middle market investment banking firm providing merger, acquisition, divestiture, and capital raising services, announced today that Enterprise Computing Services (ECS) and My IT have merged. The newly formed managed IT services provider (MSP), which will be called My IT, will pursue additional acquisitions through funding from ParkSouth Ventures and Kian Capital Partners. FOCUS represented ParkSouth Ventures and Kian Capital Partners in the transaction.
ECS, founded in 1994, is a managed IT service provider (MSP) that offers hosted cloud services, disaster recovery, virtual CIO and security services. The company is headquartered in Shreveport, Louisiana.
My IT, founded in 2000, is an MSP that offers managed IT, hosted cloud services, disaster recovery, virtual CIO, VoIP and security services.
"This deal is indicative of the growing consolidation we have seen in the MSP space," said FOCUS Managing Director Manan Shah. "The newly formed My IT has strong prospects for future growth with the additional capabilities of ECS and will offer an impressive suite of solutions in a highly fragmented industry."
"The backing of Kian and ParkSouth will allow My IT to continue to invest in their compelling growth strategy, including additional acquisitions which will position them for a widened service area and additional services and capabilities," says Abe Garver, FOCUS Managing Director.
About My IT
Based in Shreveport, Louisiana, My IT was founded in 2000 and offers managed IT, disaster recovery hosted cloud services, virtual CIO services, cybersecurity services and VoIP. My IT specializes in automotive, healthcare, construction, and small to medium sized businesses.
About ECS
Since its founding in 1994, ECS has been a leading provider of managed services and enterprise solutions to the Northern Louisiana and Eastern Texas region. Sample services include cloud solutions, network security, remote backup and disaster recovery, hardware design and deployment.
About FOCUS Investment Banking
With more than three decades of experience, FOCUS Investment Banking is a trusted name in middle market M&A advisory services worldwide. Whether helping to sell, buy, or raise capital, FOCUS strives to maximize the value of every transaction to the benefit of its clients.
The Software & IT Group of FOCUS Investment Banking is dedicated to advising and representing clients in the MSP space. Its team of investment bankers includes many former technology executives that have advised hundreds of leading software and information technology services businesses. Securities transactions conducted by FOCUS Securities LLC, an affiliated company, registered Broker Dealer member FINRA/SIPC. For more information, visit www.focusbankers.com/technology.