FOCUS Investment Banking Represents Orasi Software, Inc. in the Sale of its Testing Services Division to QualiTest Group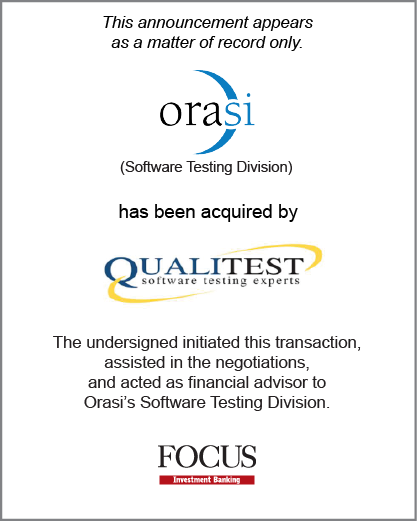 Atlanta, GA, (July 9, 2018) – FOCUS Investment Banking, a national middle market investment banking firm providing merger, acquisition, divestiture, and corporate finance services, announced today that the Testing Services Division (TSD) of Orasi Software, Inc. has been acquired by QualiTest Group. FOCUS represented Orasi Software, Inc. in this transaction. This transaction creates a work force of 3,000 testers across a geographic footprint that spans the globe.
Orasi Software is an Atlanta-based software reseller and professional services company, supporting customers across the software quality lifecycle by providing market-leading testing, application performance intelligence, test data management, and continuous delivery and integration services. Orasi TSD will be incorporated into QualiTest's U.S. operations.
QualiTest is the world's largest pure-play outsourced software testing and business assurance specialist with offices in the United States, the United Kingdom, Israel and India. QualiTest focuses on large global enterprises in the technology, telecom, healthcare, financial, media, utilities and retail industries.
"Based on QualiTest's 20-year history of helping assure the highest possible software quality, we are confident that QualiTest will only enhance and build upon the excellence our customers have come to appreciate," said Nick Kavadellas, President and CEO of Orasi. "This strategic combination benefits Orasi, QualiTest, our employees, clients and partners around the globe."
George Shea, Focus Partner and IT Team Co-Leader commented, "This is one of a number of recent international transactions that we have orchestrated on behalf of our clients, and is also our second transaction with Nick Kavadellas. We know both firms well, and Orasi's TSD Division will be a great fit for QualiTest."
Manan Shah, FOCUS Partner and IT Team Co-Leader added, "Qualitest expands its US market presence significantly through this acquisition and the automated testing capabilities of Orasi's TSD further augments Qualitest's offering. We are pleased to have put together this strategic transaction."
*These testimonials may not be representative of the experience of all clients; testimonials are not a guarantee of future performance or success.
About FOCUS Investment Banking LLC
With more than three decades of experience, FOCUS Investment Banking is a trusted name in M&A advisory services worldwide. FOCUS works to understand each client's strategic and financial objectives, craft the best plan to achieve these goals, and deliver success. Whether helping to sell, buy, or raise capital, FOCUS strives to maximize the value of every transaction to the benefit of its clients. Securities transactions conducted by FOCUS Securities LLC, an affiliated company, registered Broker Dealer member FINRA/SIPC. For more information on FOCUS and its IT practice, please visit www.focusbankers.com/technology.